2014 Kia Cadenza Driving Impressions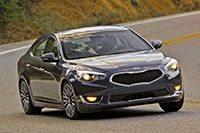 A large sedan should first and foremost strive to be smooth, and the Cadenza accomplishes this goal. Acceleration from the 3.3-liter direct-injected V6 is ample, with shifts from the 6-speed automatic nearly imperceptible. Passing on two-lane roads was no problem, but we did feel those 293 horses working hard when climbing a few steep hills at a brisk pace.
Steering is also smooth and comfortable. The wheel is easy to maneuver without feeling overly light, yet also without the artificially heavy feeling that some manufacturers are incorporating these days to give the driver a false feeling of sportiness.
Suspension is a MacPherson strut setup in front and a multi-link system in the rear, which is commonly found on most new sedans. On the Cadenza, a new two-channel damper is used in the rear. Tuning is on the firm side, but as long as the road is relatively smooth, the Cadenza will eat up the little bumps nicely and still feel composed. If, however, you're driving down a road filled with manholes as we were on part of our test drive, tempers and backsides may begin to flare after about the tenth ker-thump.
Around corners, the nearly 3800-pound Cadenza feels stable and well balanced enough. When pushing hard, there is some body roll, as is typical for a large, front-wheel sedan. This isn't a sports car, and the Cadenza does not purport to be one. Braking is smooth and confidence-inspiring, and felt just right, not mushy or grabby.
Our test car was equipped with the Technology Package, and we relied on the included blind spot alert system quite often as we followed our drive route. In addition to a visual cue in the side-view mirror, the Cadenza makes a pleasant alert sound when a car is in your blind spot. The tone wasn't annoying like those found on some other cars, which kept us from turning it off.
Visibility is fine from all angles while driving the Cadenza, and the car has relatively little road or tire noise. On a highway portion of our drive, however, we did notice a fair amount of wind noise coming from the front side windows.
Fuel economy estimates for the Cadenza come up slightly short compared to some rivals at 18/28 mpg City/Highway. By comparison, the Chevrolet Impala is rated at 18/29 mpg City/Highway; the Ford Taurus earns 19/20 mpg and the Toyota Avalon gets an impressive 21/31 mpg. But the Cadenza beats Maxima's 19/26 mpg City/Highway and the Buick LaCrosse equipped with GM's 3.6-liter V6 at 17/27 mpg.