2014 Kia Cadenza Introduction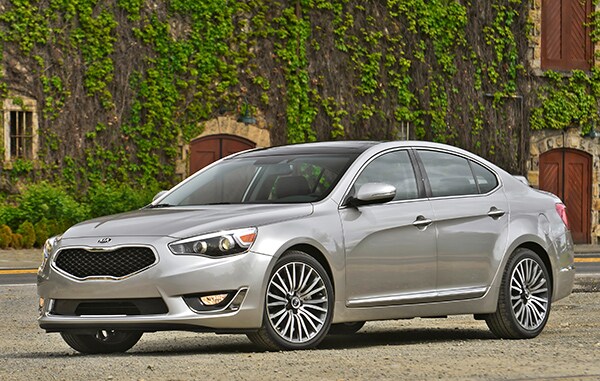 The new 2014 Kia Cadenza is the first full-size flagship for the Korean automaker. Cadenza seats five comfortably and looks like an Audi.
The Kia Cadenza is front-wheel drive and shares its basic structure with the Hyundai Azera. Compared with the midsize Kia Optima, Cadenza rides on a wheelbase that's two inches longer, and has a body that's five inches longer overall. It's also about an inch higher.
A 3.3-liter V6 engine with direct injection powers Cadenza, good for 293 horsepower and 255 pound-feet of torque. The V6 is paired with a 6-speed automatic transmission, with EPA estimated fuel economy at 19/28 mpg City/Highway. Kia shares this V6 with Hyundai. We found Cadenza accelerates smoothly and has ample power but has to work hard when charging up mountains.
Inside the cabin, design and materials are surprisingly refined. Controls are well laid out and intuitive, and the color touchscreen is easy to use and read. Upgraded Nappa leather upholstery is soft, and the headliner has a suede-like feel. An analog clock in the middle of the center stack is reminiscent of luxury brands like Infiniti, although certain small pieces here and there have a parts-bin look, like the rocker switch for the door locks that sit on the side arm rests.
Competitors to the 2014 Kia Cadenza include other full-size sedans such as the Buick LaCrosse, the all-new Chevrolet Impala, the Ford Taurus, the Hyundai Azera, the Nissan Maxima, and the Toyota Avalon. Kia hopes that with all its included bells and whistles, the Cadenza will squeeze into a sweet spot for shoppers looking for something between a standard family car, and a luxury sedan such as the Acura TL, Lexus IS, or Lincoln MKZ.
Cadenza comes loaded with standard features that normally rack up thousands of dollars in options, including leather upholstery, pushbutton start, a premium sound system and even navigation with free traffic and telematics features. The Cadenza also comes with three years of included scheduled maintenance and a 10-year/100,000-mile basic warranty.
Audio, information and entertainment are provided via Kia's UVO system, powered by Microsoft. Originally launched as a voice recognition system, UVO has been expanded and comprises the entire user interface, controlled from an 8-inch color touch screen. UVO has many features that are now common on most manufacturers' user interfaces, like Pandora streaming Internet radio and Zagat restaurant guides. Complimentary software updates can be downloaded by the user and uploaded to the car by SD card.
A telematics system similar to GM's OnStar and Hyundai's Blue Link comes standard with UVO, with automated 911 notification, scheduled vehicle maintenance alerts, on-demand car diagnostics, pre-loaded directions via Google send-to-car, and other features. But unlike most manufacturers that charge a subscription fee for these services, Kia offers Cadenza owners all the emergency features free for the life of the car, and everything else free for 10 years. Users can access vehicle information remotely via a free companion smartphone app for Apple and Android operating systems.