2014 Kia Forte Introduction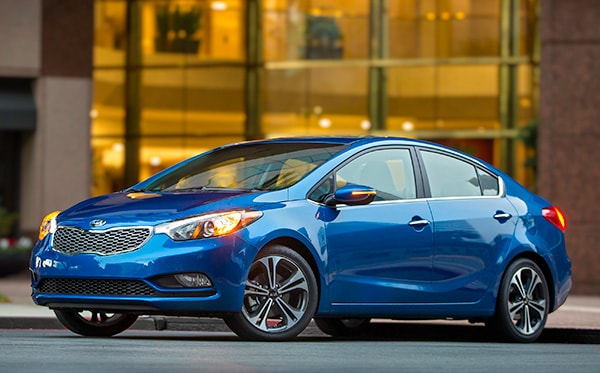 Kia Forte is all-new for 2014. The 2014 Kia Forte was launched as a four-door sedan, while the 2014 Forte 5-Door hatchback joins the lineup late in the model year (late summer 2013).
As the compact car segment expands to dominate the US market, manufacturers are increasingly recalibrating their offerings to provide style, luxury and safety at a level undreamt of just a few years ago in small cars. While the size of vehicles (and their impact on the environment) shrinks in response to consumers' changing needs, the expectation now is of elevated levels of equipment, sophistication and elegance. This explains Kia's accelerated development cycle on its Forte model. This new fifth generation, 2014 Forte has come out just three-and-a-half years after the appearance of its predecessor. When that car emerged, the marketplace was not as thronged with comprehensively equipped, stylish offerings as it is now, so the new Forte's timing could not be better. Kia says its new Forte was designed to satisfy both sides of the brain: the creative and the practical.
All-new, the 2014 Kia Forte sedan features swoopy and contemporary styling, while the Forte 5-door offers European style and hatchback practicality.
There's a choice of engines, a 1.8-liter four-cylinder engine with variable inlet-valve timing that produces 148-horsepower at 6500 rpm, a direct-injected 2.0-liter four-cylinder with variable valve timing that produces 173 horsepower at 6500 rpm, and a turbocharged 1.6-liter engine rated at 201 horsepower at 6000 rpm and 195 pound-feet of toque between 1750-4500 rpm.
The $16,000 Forte LX sedan comes with the 1.8-liter four-cylinder engine. Stepping up to the Forte EX sedan or 5-door grants an owner the benefit of the 2.0-liter, direct-injected four-cylinder engine good for 173 horsepower. The turbocharged 1.6-liter engine is exclusively available on the Forte SX 5-door.
Forte 5-door also features a sport-tuned suspension.
Many of the essential items like ABS, air conditioning, Bluetooth, satellite radio and Kia's comprehensive safety equipment are standard on all models. Yet the options list offers items not usually found on cars of this class, like a ventilated driver's seat, leather upholstery, dual-zone climate control, and puddle lamps at the doorhandles.
Add rigorous noise and vibration-reducing measures, as well as careful suspension upgrades, and you're left with an impression of more refinement and elegance than one might expect from a car as affordable as the Forte.