2014 Kia Optima Driving Impressions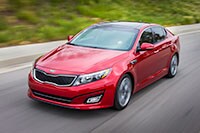 Optima LX and EX use 192-hp 2.4-liter four cylinder engine, which we found flexible, very quiet, and reasonably powerful. As the engine most Optima buyers will choose, it is well suited to family duties both in daily traffic and at highway and commute speeds.
Even at middle throttle, accelerating from a stop, the engine is only distantly audible. Only under full acceleration does this engine remind you that it's a small four-cylinder, with an agonized yowl. At the more common task of accelerating away from an intersection, the Optima EX excels, smoothly and predictably gaining speed with no drama. In other words, throttle tip-in at slow speeds is linear and without surges; many cars nowadays jump off the line with overly sensitive throttles.
Ride quality is good, and the suspension soaks up roughness while delivering necessary road information to the driver. Chassis dynamics are excellent for a family mid-size car. Steering is accurate, firm and provided good feedback over twisting terrain. Pushing harder, there is good front-wheel grip, and when we hit a long curve at high speed, the multi-link rear end hooked up nicely. The usual ride responses experienced in vigorous driving, such as body roll, dive and squat, are well controlled, thanks to the car's rigid chassis.
The Optima SX Turbo is a sweet performance star with a classy ride, with a generous 274 hp and 269 lb.-ft. of torque. The engine's stability and agility are first rate. The sport suspension adds grip and cornering stability without being too rough.
The standard 6-speed automatic transmission is smooth.