2014 Kia Sorento Driving Impressions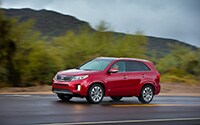 Our initial hands-on impressions were gleaned at the wheel of loaded Kia Sorento SX with all-wheel drive. The venue was Arizona, a too-brief run from Scottsdale east to Globe on smooth roads that offered little in the way of challenge aside from some elevation changes and microwave bombardment from local law enforcement officers bravely defending the public by wielding radar guns.
We found the 3.3-liter V6, a new engine that made its initial appearance in the 2012 Hyundai Azera sedan smooth and generally quiet, sounding a little busy only at full throttle. Smooth also applies to the operation of the 6-speed automatic, which manages downshifts for passing or hill-climbing without calling much attention to itself.
A well equipped all-wheel drive Sorento weighs in at about 3900 pounds, according to Kia, which is considerably heavier than others in the compact crossover posse. There were no four-cylinder LX models available at the Arizona event, but we emerged with the impression that the Sorento will make owners much happier when equipped with the V6 engine. The 3.3-liter isn't going to produce face-distorting acceleration, but it does generate respectable stoplight getaway and enough punch to take at least some of the drama out of passing on two-lane highways, very desirable in a vehicle designed for family transportation.
Designed to automatically and instantly transfer power to the wheels with traction, up to 100 percent to either end of the vehicle, we presume the sophisticated all-wheel drive system to be essentially transparent in operation. The presumption, rather than certainty, is rooted in the nature of the Arizona drive route, which was on dry roads. If the all-wheel drive system found any reason to operate in anything but its front-drive default mode, it wasn't apparent.
Ride quality is creamy, though firm enough to convey a sense of competence. The new Flex Steer option does manage to convey some approximation of on-center tactility, particularly in Sport mode. After experimenting with all three settings, we simply left it in Sport, and while there was no real sense of actual road feel the higher effort associated with this mode delivered the best accuracy. The foregoing is something we'll see in almost every new vehicle coming down the pike, as carmakers switch to electric power steering as part of the scramble to meet mounting EPA fuel economy standards.
While the Sorento driving experience is generally bland, there are a couple of strong suits. For one, the chassis and body engineers have done a very good job of noise suppression. The previous Sorento drew demerits for interior noise at freeway speeds; this new one deserves plaudits. For another, the bigger brakes have gratifying power, and the system provides excellent pedal feel and easy modulation.