2014 Kia Sorento Introduction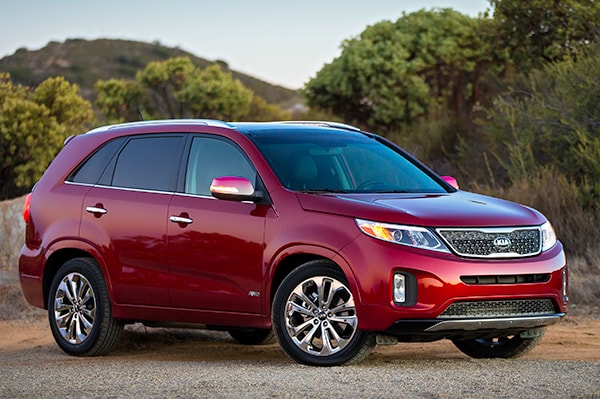 Kia Sorento benefits from a major update for the 2014 model year. Technically, the 2014 Sorento represents a mid-cycle freshening; the previous generation made its appearance for the 2011 model year. But even though the Kia marketing people refrain from employing the term all-new, the 2014 Sorento rolls into showrooms with a list of revisions that's much more extensive than the usual facelift. All told, Kia reckons the Sorento's new or re-engineered content at 80 percent.
The 2014 Kia Sorento benefits from cosmetic updates front and rear, a new V6 engine option, a chassis sufficiently re-engineered to be characterized as new, a new electric steering system, a number of suspension revisions, improved braking, upgraded interior appointments, and new infotainment and telematics.
Like every vehicle in this class, the Sorento is a unibody design, basically front-wheel drive with an all-wheel drive option.
Although it continues to offer the smaller Sportage, Kia targets the Sorento against the compact crossover crowd, where it has a size advantage. The Kia Sorento is substantially bigger than the Honda CR-V, Ford Escape, Mazda CX-5, and Toyota RAV4. Sorento's larger size pays roominess dividends.
The 2014 Sorento continues to offer the option of a three-row, seven-passenger configuration. However, adding the third row consumes a bit of cargo space and continues to be very snug in terms of third-row leg room. Kia and Mitsubishi are now the only players in this segment to offer a third-row option. We think Sorento is better as a two-row, five-passenger vehicle.
The 2014 Sorento's new V6 engine is a rare option in this class. The Mitsubishi Outlander is the only competitor with a V6 option. Kia's 3.3-liter V6 uses direction injection to produce 290 horsepower, 252 pound-feet. The new 3.3-liter V6 replaces the previous 3.5-liter V6. Fuel economy for the 3.3-liter V6 is an EPA-estimated 18/25 mpg City/Highway, 18/24 mpg with all-wheel drive. It comes with a 6-speed automatic. Regular gasoline is recommended for all models, so no need to buy Premium gas.
Only the base Sorento LX comes with a four-cylinder engine. New for 2012, the 2.4-liter four-cylinder with GDI direct injection is rated at 191 horsepower, 181 pound-feet of torque. (The previous port-injected 2.4-liter four has been dropped.) Fuel economy for the 2014 Sorento LX with 2.4-liter four-cylinder with 6-speed automatic is an EPA rated 20/26 mpg City/Highway, 19/24 mpg with all-wheel drive. Although the V6 option adds $1600 to the bottom line, it doesn't carry much of a fuel economy penalty, especially when all-wheel drive is ordered.
Structural improvements to the 2014 Sorento include what Kia calls an all-new chassis, with a subframe supporting the strut front suspension, stiffened front strut towers, larger bushings in the multilink rear suspension, and a higher percentage of high strength steel throughout the bodyshell. Kia engineers cite an 18 percent increase in torsional rigidity, an area of chassis construction where more is always better, contributing to more precise handling and first rate crashworthiness. Kia expects that the Sorento will once again score top marks in the latter category.
The inner Sorento has also received comprehensive attention, with higher grade materials throughout, a redesigned instrument panel, an electric steering system that affords the option (Flex Steer) of three driver operating presets, and of course enough electronic connectivity to connect with colonies on Mars the minute they're established.
Hyundai and Kia have made huge strides with quality, and the Sorento has the feel of solid goods. And like other products from the two companies, which are joined at the hip, the Sorento comes to market with a goodly list of standard features even in basic LX editions.