2014 Kia Soul Introduction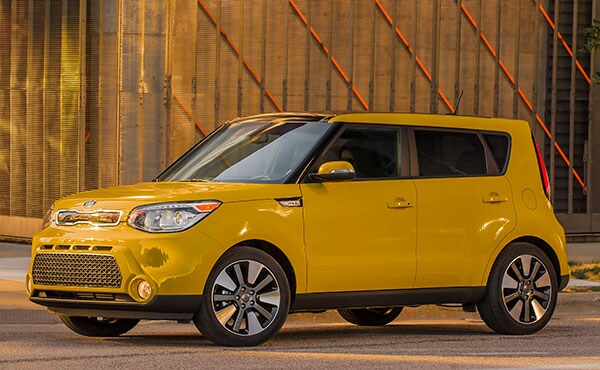 Just when it seemed boxy cars were going away, the new 2014 Kia Soul not only carries on, but is redesigned and better than ever.
Riding on an all-new platform, the 2014 Kia Soul is longer, wider and more rigid than its predecessor, making for a more comfortable and safer ride. New sound insulation and improved acoustic engineering makes the cabin much quieter.
Perhaps most significant, though, is the improvement in the interior quality and design. Flat, hard plastics have been replaced with curved, soft-touch materials. The Soul has a unique circular theme throughout the cabin, which can be seen in the center stack and echoed in the air vents (with nifty round speakers that sit on top), the driver instrument cluster and the gearshift surround.
On the outside, the most noticeable difference is a more softened shape, compared to the upright cracker box of the past. There's no question the new Soul is still a box; it keeps the same proportions but sports more sophisticated lines, incorporating bends and curves into a still-unmistakable square silhouette.
The front end's tiny upper grille and a giant, mesh-covered lower grille make the Soul look grounded and hunkered down. Round accents, like foglights, contrast with the Soul's boxy shape.
Two direct-injected, four-cylinder engines carry over from the previous-generation Kia Soul. The base 1.6-liter makes a modest 130 horsepower and 118 pound-feet of torque, available with a 6-speed manual or a 6-speed automatic transmission. Fuel economy is an EPA-estimated 24/30 mpg City/Highway, or 26 mpg Combined, regardless of transmission.
Most will want to opt for the 2.0-liter inline-4, which is good for 164 hp and 151 lb.-ft. of torque and is available only with the 6-speed automatic. EPA-estimated fuel economy is 23/31 mpg City/Highway, or 26 mpg Combined, showing the more powerful 2.0-liter engine neck-and-neck with the standard 1.6-iter. Of note, all versions of the 2014 Kia Soul run on Regular gasoline, while the Fiat 500L and Mini Cooper Countryman require Premium.
In-car technology has also been updated in the 2014 Soul. Cars equipped with navigation use a new system powered by Android, replacing the old Microsoft system. Cars without nav continue to use the Microsoft-powered UVO voice-recognition and handsfree system.
We found the 2014 Kia Soul to be a fun car, great for tooling around in the city, and on mid-range road trips. There's plenty of room to carry gear, and the back seat will fit two or three in relative comfort for a compact vehicle. Driving dynamics are improved, but with its moderate acceleration, numb steering and relatively harsh ride, the Soul isn't a vehicle you get for its performance.
Although it starts in the reasonable sub-$15,000 category, don't expect much at the entry-level price. Options such as navigation, the premium Infinity audio system and other goodies are expensive and add up fast. So expect a well-equipped 2014 Kia Soul to come closer to the $20,000 mark.
More people are cross-shopping Kia Soul with other compact cars. In fact, in a time when more people are looking for what they can get for their money, instead of shopping in a traditional segment, the Kia is a unique player in a price range that includes not only more direct wagon-type competitors such as the Fiat 500L, Nissan Cube and Mini Cooper Countryman, it also is a potential contender space-wise for those shopping for compact SUVs such as the Honda CR-V and Toyota RAV4, as well as sub-compact hatchbacks including the Ford Fiesta, Honda Fit and Mazda2.