2014 Kia Sportage Driving Impressions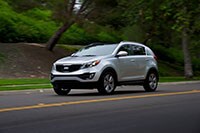 We found the Kia Sportage enjoyable to drive. All-wheel-drive models are more pleasing than the front-wheel-drive Sportage, but neither is boring or outside of its element in the overwhelming majority of circumstances and situations.
Kia has done a commendable job of milking maximum power out of the 2.4-liter four-banger, while delivering decent fuel economy. Measured again against the Subaru Forester, Honda CR-V and Toyota RAV4, even before adoption of direct injection, the Kia Sportage 2.4-liter delivered horsepower and torque numbers that were just about dead-on average for the group. Now, with the 2014 increase of 6 horsepower, it reaches a tad higher yet.
Only a few years ago, this class offered a few V6 options, but those have disappeared with rising gas prices and tighter fuel economy regulations. Now the only optional engines in this group are the turbo-fours offered by Subaru and Kia. The Kia 2.0-liter turbo is by far the stronger of the two, with 260 hp for the Sportage vs. 224 hp for the Forester, and 269 pound-feet of torque for the Kia vs. 226 for the Subaru.
Kia's 6-speed automatic handles gear changes reasonably smoothly, including downshifts when necessary for passing and merging, whether in regular auto or Sportmatic mode. The brakes in the Sportage did their job with confidence and no noticeable fade, after several miles of reasonably rapid motoring on twisting two-lane roads winding through the Santa Cruz Mountains south of San Francisco.
Response to steering inputs was decent on our Sportage EX wearing the low profile tires and 18-inch wheels, with understeer more easily induced with front-wheel drive than with all-wheel drive. The same held for steering effort, with the AWD feeding back a heavier, more solid feel. Given the relatively high center of gravity, body roll (lean) in tight corners was modest. Directional stability, the tendency for the car to hold its line on straight stretches and through corners, raised no concerns, requiring corrections only in response to pavement irregularities. Suspension damping was decent over bumpy pavement, the worst of which produced something more like head nodding than head bobbing.
For mud or snow, the AWD system offers a Lock Mode that sends equal amounts of torque to each wheel, at up to a maximum of 25 mph.
The test models we drove were early production models, i.e., not quite ready for prime time, so the minor squeaks and rattles emanating from somewhere in the neighborhood of the dash are likely not indicative of Sportages in dealers showrooms. The tire noise from the stock Hankook tires, though, could be. That would be unfortunate, as otherwise, the ride and road holding were quite respectable.
Comparing overall handling, the Subaru Forester feels about the same in terms of road-holding and overall stability (very good, in other words), with its lower center of gravity making up for a track (distance between the wheels side to side) that's more than three inches narrower. The CR-V and RAV4 don't fare as well, tipping the scales on average 100-200 pounds heavier than the Sportage (depending on equipment), and riding on a track that's narrower than the Sportage's by about two inches. The net effect is to allow more body roll in turns and to generate head gyrations that are closer to bobbing than to nodding over rough pavement. Basic ride quality is comparable for the cars in this class.