2014 Land Rover Range Rover Sport Driving Impressions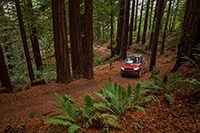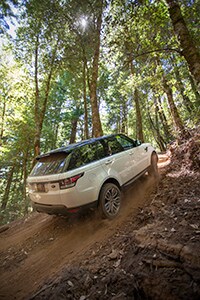 The Range Rover Sport combines the quiet, confidence-inspiring control and ride of the big Range Rover with more enthusiasm, higher grip and a sportier edge. It is one of the few vehicles that can handle outback trails and cruise interstates serenely.
Range Rover Sport went on a strict diet for 2014, shedding at least 10 percent of its weight by replacing the steel backbone with a stiffer aluminum structure. A solid base with less weight are primary advantages in automotive physics.
Now about the same weight as most competitors, the Range Rover Sport feels lithe and agile, following the ability of the German triumvirate (BMW, Mercedes-Benz, and Audi, Porsche, Volkswagen) to make a big box feel lighter than it is. The weight is well distributed among the corners, and the default power split favors the rear axle to help it feel more like a rear-drive car. Air suspension soaks up huge dips with ease and keeps the patter from narrow-sidewall tires to a hushed minimum. It also raises the car for clearance off the highway and lowers it for less aero drag on the highway.
The Range Rover Sport can be equipped with more acronyms than an airplane, and plenty of them are aimed at making it change directions or corner better: Ultimate grip depends more on tires and balance than on electronic trickery. Well-equipped Sports will apply a brake and torque vector the rear differential to help it turn into corner quicker, shocks change their damping rates continuously, and active roll control limits body roll. For a big girl she gets down a winding road with considerable aplomb, and while the fully controlled V8 is quicker, I found the standard setup V6 a more involving drive, like I was driving the car rather than pointing the steering wheel and letting the car sort out the fastest way. And there was less system noise in the background since there were fewer actuators and electronically processed actions. The electronic chassis control does offer a better ride on rough side-to-side motion roads because the de-coupled antiroll bars give less head toss.
With Terrain Response, you can choose whatever drive mode you like or you can leave it in Auto and the system will pick the best setup for each driving situation as you encounter it. By employing a battery of sensors and 500 calculations per second, Auto tends to pick appropriately for anyone who doesn't make their living on test courses, and matches most of those.
Electric-assist steering is quiet and smooth on the Range Rover Sport. In the past, the sheer mass of rotating parts never made steering feel a Range Rover specialty, so this is the sportiest yet in that regard, save maybe the Evoque. With the longer wheelbase and big wheels (255/50R19 minimum tire size), the Sport isn't quite as maneuverable as before but the optional park assist system will not only steer you into a parallel or perpendicular spot, it will get you out of a parallel spot.
The supercharged V6 engine is rated at 340 horsepower and 332 pound-feet of torque, with strong torque available early in the rev band. Although less powerful than the previous V8, the V6's power to weight ratio is better because of the diet. An 8-speed automatic transmission improves acceleration without hurting fuel economy, and automatic Stop/Start may help your urban fuel use, or at least please the Environmental Protection Agency. EPA ratings are now up to 17/23 mpg City/Highway, or 19 Combined miles per gallon. By trip computer we averaged 17.6 mpg on pavement and edged 20 mpg on the highway.
The supercharged V8 carries over with 510 horsepower and 461 pound-feet of torque and gets Stop/Start as well. Land Rover speaks of 0-60 mph acceleration in the 5-second range, which is not as quick as a Cayenne turbo, X5 M or ML63 AMG but darn fast by Range Rover standards. Range Rover Sport's V8 emits a subdued rumble at idle and small throttle applications, then switches to an authoritative bark when you get on it; most Sport owners should appreciate it but I did not enjoy being awakened from my Autobiography nap by such shenanigans and racket, as wind and road noise were all but absent at 75 mph. EPA numbers are irrelevant in 500-hp, 5000-pound utilities; if you want fuel economy get a diesel.
Sports with the V6 come with all-wheel drive; four-wheel drive with low-range gearing is optional on V6 and standard on V8. On 4WD you can change from high to low range at speeds of up to 37 mph, but it'll be an unlikely occasion that you want to be in low range at 37 mph.
Off-highway performance is worthy of the Range Rover name, sloppy mud or heavy snow is about the only thing the standard tires can't cope with. On dedicated winter tires the plows will be heading in before you do. If it floods, a properly driven Sport can handle standing water more than 2.5-feet deep.
We did not drive an active cruise control car in highway conditions, though we are pleased to report it did not false-alarm, interpreting a hairpin turn guardrail as impending collision as many other such systems have.
Every Sport is rated to tow 7700 pounds though you'll have to balance carefully as tongue-weight limits may be different than you're accustomed to.