2014 Land Rover Range Rover Sport Summary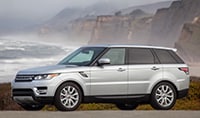 The all-new 2014 Range Rover Sport combines that intangible panache Range Rover has had for years that competitors are still trying to crack with formidable on-road performance as defined by autobahn bruisers. It offers plenty of features, comfort and luxury. It offers on-road performance and off-highway capability.
G.R. Whale filed this report after his test drive of the Range Rover Sport in Northern California.