2014 Land Rover Range Rover Sport Walk Around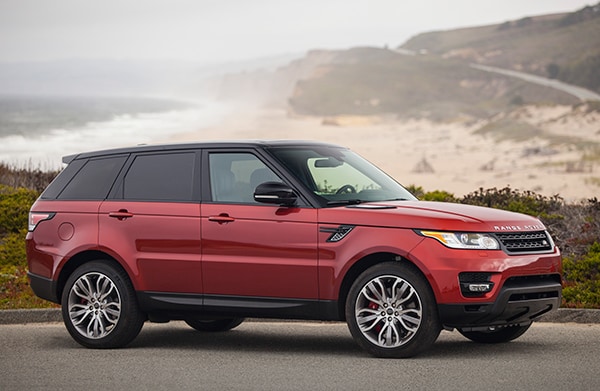 Now built on much the same platform as the Range Rover the Sport's family resemblance is obvious, but so are the sleeker lines and more aggressive demeanor.
Most of the classic Rover design cues made it to the Sport. The clamshell hood opening begins the character line that carries aft to the taillights and the broad expanse and low cowl provide a great forward view. Black pillars all around effect the floating roof, though this goes away on some contrast-color-roof paint pairings. Horizontal styling themes dominate the end, while the side window lines taper rearward much more than the big brother. And the short-nose, long-tail proportions aren't so pronounced as on the Range Rover.
Rather than side gills, Sports get angled vents to better impart the image of speed, while the protruding door sills and flared wheel arches mimic the hunkered down look of Auotbahn bruisers rather than off highway vehicles. Bumpers are nearly flush but available electronic aids will help prevent you scuffing them (not others). The Sport does not get the split tailgate/hatch arrangement of the Range Rover, and with the air suspension in normal ride height your correspondent's head found the protruding hatch latch every time he opened it; use caution if you're over six feet.
Bi-xenon headlamps, rear fog lights and LEDs all around give the Sport identity at night, while telltale clues about options are trim levels can be found in badge, mirror and brake caliper coloring, wheel sizes and styles and available equipment. All have dual exhausts, the V6 mildly flared tips and the V8s rolled tips. Don't let a Supercharged badge fool you, all Sports are supercharged.
Interior
Awash in leather, wood, lacquer or aluminum trim the cabin feels as luxurious as a Range Rover should, very similar to the big Rover just a bit cozier and not so light and airy. If you don't feel at least lightly spoiled here someone else should be driving. Soft-touch materials abound, the assembly looks like good hand-made stuff and there's no chrome to reflect glaring sun on safari, though a couple of the available high-gloss woods might.
Supportive front seats have plenty of adjustments to fit a wide variety of shapes and sizes in different grades of leather, piping and color combos, both with three-person memory. Non-Rover types will mistakenly hit a memory button because they are on the armrest where most window switches are while the windows are on the top of the door panel. In addition to the snowboard-wide center armrest, each front seat has a fold-down, infinitely adjustable inboard armrest. Autobiography headrests are sybaritic, pillow soft and winged so your head doesn't flop when you fall asleep.
Rear seats are bigger than the outgoing model though we wouldn't call it spacious. With a tall front passenger's knees at the glovebox the 6-foot associate couldn't fit easily behind him, like they did in a big Range Rover, but two tall and two average split diagonally fit fine, assuming everyone cooperates. Rear seats recline slightly, are nearly as comfortable as the thrones in front, and can be equipped with climate control.
Although the first-generation Sport was derived from the 7-seat LR4, this generation is the first to offer a third row. Wisely called 5+2 seating, anything else is too optimistic, the power folding seats are designed for kids, sub-teens in our estimation. There are model and tire limits on when you can order the third row, and it takes the space of the spare tire; a sealant system is offered in its place (and Land Rover is working on an outside spare-carrier). We don't recommend the third row. If you need three rows, we recommend the Land Rover LR4 or a larger SUV.
Most Range Rover Sports use analog gauges on which the gradations change color in sports driving mode. They're clear and functional, supplemented by bar-graph temperature and fuel. The display in between offers a host of trip, car and other information, run mostly through the steering wheel spoke thumb controls and sometimes the end of the stalk controls.
Top-line cars get a full-screen panel with analog gauge depictions. This offers more display options and information but the needles ratchet as revs or speed climb or fall rapidly rather than rotate fluidly; if you really watch instruments try this option before committing.
Button-count is down considerably, so in some cases you will go through more steps on the touch-screen. We'd call it improved, though we'd also call the touch-screen the least refined of the cabin components. The detailed information available on the screen is either impressive or overwhelming, for example, it can display which wheel is approaching its travel or traction limits.
The other component we're less than enthused with is the ZF/BMW-derived shifter. This joystick is push forward to go backward, pull back to go forward, press one button for park and another to activate the lever (it moves without it, just doesn't do anything), and manually downshift tapping forward like Mazda and BMW and racers do. We know how it works and why it works that way, but we all fumbled and cursed at it more than once, though this improves with familiarity. On V8 models, you can also use the paddles to semi-manually upshift and downshift.
Climate control, dual- or four-zone, worked as we wanted; ventilated front seats are worth a few degrees on their own. The big sunroof's shade is better than most but the car is still a greenhouse. With 380 watts we thought the standard sound system might have more impact, but the upgrade 19-speaker Meridian system was wonderful. Pop for the 3D surround-sound with rated 1.7-kilowatt amplification and the rear entertainment screens and your kids will not want to get out.
The cargo area is well-finished, lighted and covered, but smaller than before. It carries 28 cubic feet of luggage second-row seats up and 62 cubic feet seats folded, less than what's found in the 2013 BMW X5, Mercedes M-Class and GL-Class, Volkswagen Touareg, Audi Q7, as well as some of the smaller SUVs. Only the Infiniti FX and Porsche Cayenne have similar space.
A power hatch conceals the rear wiper under the spoiler. The load floor isn't level with the hatch opening but curves gently so heavy items aren't quite so much struggle. The Range Rover Sport carries a full-height spare tire under the rear floor and the flat full-size it replaces will fit in the well.