2014 Land Rover LR2 Introduction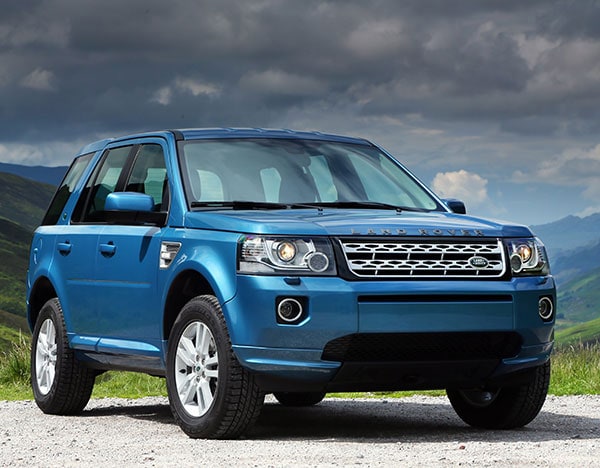 Ever since they first appeared, way back in 1948, Land Rovers have been renowned for their ruggedness and off-road prowess. But perhaps what's most impressive about the 2014 Land Rover LR2 is just how well it behaves when mud becomes tarmac, the roads twist and turn and the driver demands sportiness, rather than its famous aptitude for traversing boulders.
LR2 is Land Rover's entry-level SUV. Built with unibody construction, it seats five, and sits below the Land Rover LR4 and the upscale Range Rover products. Despite the LR2 being an entry-level machine, you still get plenty of styling and luxury. Naturally, what Land Rover deems entry would be would be classed as a premium vehicle for many manufacturers. Very popular in the UK, relatively few LR2s are sold in the U.S.
The 2014 Land Rover LR2 infotainment system gets a more responsive 7-inch touch screen, now using capacitive technology that promises improved scrolling on the main navigation screen (if so equipped). A new QWERTY keyboard permits phonebook searching. SiriusXM satellite radio gains such improvements as artist memory seek, learn/game memory seek, and instant replay. An 825-watt Meridian surround-sound audio system with 16 speakers and a subwoofer is newly available for LR2 and LR2 HSE models; it's standard in the HSE LUX edition.
Beneath the LR2 hood is a fuel-efficient 2.0-liter turbocharged four-cylinder engine with high-pressure direct fuel injection and variable valve timing, lifted directly from the Range Rover Evoque. The four-cylinder turbo replaced the prior six-cylinder engine for 2013. Output is rated at 240 horsepower and 250 pound-feet of torque (derived at low engine speed), driving a 6-speed automatic transmission. Fuel economy is EPA-estimated at 17/24 mpg City/Highway.
Three models are available, LR2, HSE, and HSE LUX. Even the basic LR2 is abundantly equipped, boasting such features as grained leather seat upholstery, power front seats, a 380-watt Meridian sound system, and a dual-panel panoramic sunroof. The front section of the sunroof opens and slides over the glass panel that sits above the second row. The HSE LUX edition adds such extras as Windsor leather-covered seats with double contrast stitching.
The LR2 boasts an intelligent all-wheel drive system by Haldex. Terrain Response technology allows the driver to choose between four settings based upon the driving conditions faced (General Driving, Grass/Gravel/Snow, Mud & Ruts, and Sand). All-terrain tires ride on 18-inch alloy wheels.
Off-road, the 2014 Land Rover LR2 handles practically anything you can throw at it, from impossibly steep descents, to river crossings and mud deep enough to drown a small dog. Specifically, powertrain components are protected from water intrusion up to a depth of 19.7 inches, using such devices as a remote transmission breather.
Hill Descent Control works with the antilock braking system to automatically restrict speed when easing down a steep grade. Gradient Release Control ensures that when you release the brake on an extremely steep hill, brake-line pressure is released progressively, not abruptly, as your foot eases off the pedal.
When the going becomes less rough, the LR2 keeps going. The ride feels firm and poised, and this British-brand SUV (actually built in India) exudes more agility and engagement than you would expect from a machine that made its name from scaling mountains. In sport mode, the transmission is programmed to hold lower gears longer and to downshift more readily, to improve acceleration.
The Land Rover LR2 is not just a one-trick pony. It's a compact SUV that can do it all.