2014 Land Rover Range Rover Evoque Introduction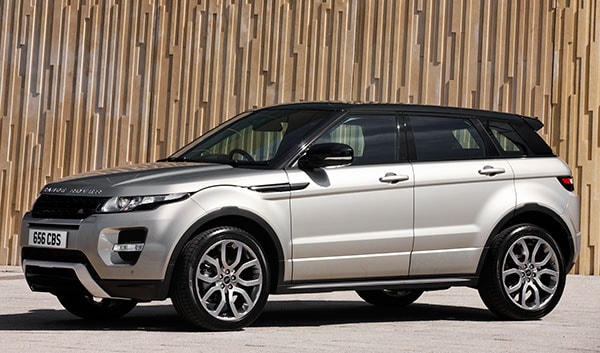 Land Rover's Range Rover Evoque delivers luxury, utility and reasonable fuel economy in a stylish, compact package. Evoque brings Land Rover off-road capability to a subcompact SUV. Its wide cabin means plenty of space for those in front with space in the rear for two more. Its turbocharged engine delivers a good balance between responsiveness and fuel economy, enhanced by a new 9-speed automatic.
Evoque plays in the same league as the BMW X1, Mercedes-Benz GLA and the impending Audi Q3. These subcompact sport-utility vehicles are smaller than compact SUVs such as the BMW X3, Mercedes-Benz GLK, Audi Q5, Infiniti EX35, Acura RDX, Volvo XC60 and Lexus NX.
Evoque is wider than most of the compact and subcompact SUVs, however, resulting in a broad cabin and appearance: Evoque's width and low roofline contributes to its athletic look and aggressive stance.
Though quite small, Evoque delivers cargo versatility with a hatchback design. Fold the rear seatbacks forward and cargo capacity expands to a useful 51 cubic feet, giving the Range Rover Evoque 6-percent more cargo room than a BMW X1. Their small size makes the subcompact SUVs easy to park.
Interior appointments in the little Range Rover are luxurious, comparable to those from Mercedes, Lexus, BMW, and Audi, though more stylish. Evoque's interior manages room for four passengers. All the compact and subcompact SUVs have seatbelts for five passengers, but none of them provide anything approaching comfort for a center rear seat occupant and the Evoque is no exception.
The Range Rover Evoque comes in two body styles, a five-door and a three-door coupe. The original show car was the coupe, a body style not offered by any competitor. The four-door is more practical and less expensive and for those reasons vastly more popular, though both are essentially the same size. The paint palette includes hues and two-tone schemes of sufficient variety to make Mini Cooper owners jealous.
Evoque employs a 2.0-liter turbocharged four-cylinder engine allied with a 9-speed automatic transmission. The engine is rated for 240 horsepower and 250 pound-feet of torque. We found it works very well, with performance similar to a Range Rover V6. The 9-speed automatic, which includes paddle shifters for manual operation, kicks down quickly for passing, and it delivers respectable acceleration performance. Expect 0 to 60 mph in the low-7-second range.
Evoque's small size, low mass and small, sophisticated powerplant add up to a decent power-to-weight ratio and respectable EPA fuel-economy ratings: 21/30 mpg City/Highway, up slightly from last year.
Evoque stands out in its class for its off-road capability. With a sophisticated Terrain Response system, all-wheel drive, good ground clearance, and a short wheelbase, the Evoque can tackle tough off-road terrain. Most of the others in this class have no off-road pretensions whatsoever, though they can handle primitive roads. Evoque's off-road capability follows Land Rover's tradition of go-anywhere proficiency and broad capability, an area of performance its competitors lack.
Evoque was launched as a 2012 model. For 2013, a new base model called Pure was added. 2014 Range Rover Evoque models offer a new Park Exit feature to get you out of parallel parking spots, adaptive cruise control with forward warning and collision mitigation braking, a 9-speed automatic, and an active driveline that does not use all-wheel drive at speeds above 22 mph unless needed.