2014 Land Rover Range Rover Sport Introduction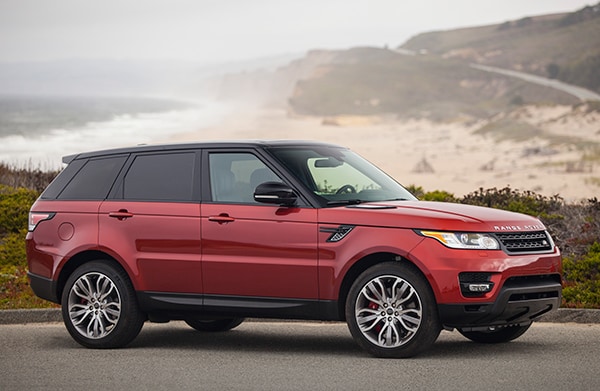 The Land Rover Range Rover Sport is all-new for 2014. The 2014 Range Rover Sport aims to match Range Rover's flair with driving dynamics more suitable to a big premium sedan and trail-ability to shame many a four-wheel drive.
Both the new V6 and the V8 are supercharged and equipped with an 8-speed automatic and stop/start for fuel economy. (The V8 was available in last year's model; everything else is new for 2014.) The 2014 Range Rover Sport weighs 800 pounds less than last year's model, according to Land Rover, so performance and fuel economy with either engine are improved over its predecessor. However, even the big diet only brought weight to the 5,000-pound range, so don't expect stellar fuel economy.
Only two inches longer, the 2014 Range Rover Sport adds seven inches of wheelbase over the previous-generation. That yields an improved ride, more back seat room with easier entry, and an available token third-row pair of seats. It does a good job of disguising its size, nearly a foot longer than the original Range Rover. Relatively speaking, cargo area is on the small side, but the Rover's towing capacity is among the best.
Leather, real wood and aluminum set the stage, with upgrades available for all. Finishes and features parallel the Range Rover, while styling is more London loft than formal gentlemen's club. Four adults are comfortably accommodated. Plenty of gadgetry is available, including a surround-sound system that may leave you breathless, cameras all around, and the ability to get itself out of a parallel parking spot if you're worried about scuffing the paintwork.
Full air suspension keeps the Range Rover Sport well controlled, and a plethora of electronic chassis and driver aids let it devour a winding road at a brisk pace. Those same pieces allow a comfortable, confident ride off the pavement, with similar aids from on-board electronics to get through obstacles that will stop most challengers.
The V6 models have more power per pound than last year, and the 510-horsepower V8 generates prodigious thrust and an exhaust bark to go with it. For decades, Range Rovers were genteel keep-calm-and-carry-on vehicles. The all-new Range Rover Sport is the most driver-oriented Range Rover and the first to really deserve the Sport moniker.
Range Rover Sport gives another choice to luxury performance utility buyers, competing with BMW X5, Mercedes-Benz M-Class, Porsche Cayenne, perhaps even a well-optioned Volkswagen Touraeg or Infiniti FX50. Three-row shoppers pit Range Rover Sport against Audi's Q7, Mercedes' GL and the X5 option. The Sport won't quite run with the likes of X5 M, M63 AMG or Cayenne turbo but those cost more, and while the others offer a diesel or hybrid, stay tuned.