2014 Lexus GX 460 Introduction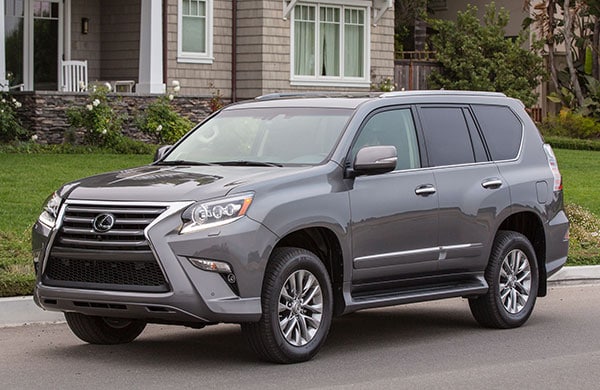 The Lexus GX shares its basic platform with the Toyota 4Runner, known for being capable off-road. Despite being a large luxury SUV and rarely driven off road, the GX is designed to hold up to regular use over rugged terrain, and is up to the task of challenging trails, and especially towing.
The task of freeways with hills and patchy pavement is another story. Its 302 horsepower engine doesn't blow us away like that 300 number used to, especially carrying 5340 pounds; and sometimes the truck chassis wants to dance on freeway curves, and the rough spots on the pavement travel through the black leather seats.
The GX 460 was all-new for 2010, to begin its second generation, and there have been no big changes since then.
For 2014 Lexus GX gets a garish new grille, LED headlamps, LED daytime running lamps, and LED foglamps on the Luxury model. At the rear there's new fascia with clear taillamps. Inside there's a new multimedia system whose 8-inch screen can display three functions at once: navigation (with 3D images), audio and weather. It's also the backup camera, Bluetooth and vehicle information display. The audio system uses cache radio which can pause and replay the last 15 minutes.
The Lexus GX comes standard with a 4.6-liter V8, hence the GX 460 designation, and a 6-speed automatic transmission. It's EPA-rated at 15/20 mpg City/Highway; we got 16.2 mpg during one week of driving city and freeway in the Northwest.
The GX seats seven. Inside is a luxurious cabin trimmed with wood and leather and equipped with heated and ventilated seats, rain-sensing windshield wipers, a power moonroof, multimedia entertainment and other amenities. Like other luxury SUVs, there is a carefully crafted interior lighting scheme, programmable preferences for a variety of features, and the use of powered equipment that goes well beyond windows, seats and mirrors.
With body-on-frame construction and low range gearing, the GX 460 is far more rugged and powerful than the Lexus RX crossover. Unlike the RX, the GX offers excellent off-road capability. It is equipped with enhancements to make off-road driving safe and easy. It's very comfortable in town and a great setup in the backcountry. The GX can tow up to 6500 pounds with optional hitch.
The GX comes standard with a full-time four-wheel-drive system with locking center differential and low-range gearing. It's a system that requires little or no input from the driver, and it's ideal for secure travel during heavy rains and on icy roads, or on dirt/gravel surfaces.
The GX 460 competes with the Land Rover LR4. It requires premium (91 octane) gasoline.