2014 Lexus IS Driving Impressions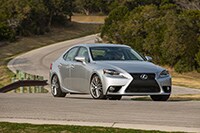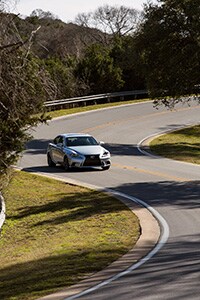 Perhaps the best thing about the Lexus IS is that it's easy to drive. Three selectable modes on base models adjust throttle control, steering and fuel management to suit your mood: Eco, Normal and Sport. Sport mode uses Lexus's G-force Artificial Intelligence (G AI-Shift) technology, which will select the optimal gear based on information from sensors that read lateral G-force. F-Sport models have Sport S and Sport S+ modes for an even more aggressive setup.
Suspension has been redesigned for 2014 with a new multilink rear setup and sway bar for reduced body roll. F-Sport models have an available adaptive variable suspension. Updates have also been made to the all-electric power steering, including a revised gear ratio and improved steering feel. A variable gear ratio steering is also optional for IS 350 models with the F-Sport package and RWD.
The top-seller will most likely be the entry-level IS 250, powered by a 2.5-liter V6 engine that makes 204 horsepower and 184 pound-feet of torque. It's good for an estimated 0-60 mph time of 7.9 seconds and gets an unofficial manufacturer-estimated 21/30 mpg city/highway on RWD models and 20/27 mpg on AWD models.
On winding roads, our IS 250 handled the sweepers and off-camber turns with ease. The 6-speed automatic transmission was smooth and shifted in the right spots. The ride was relatively smooth, although we did notice road and wind noise, especially on rougher streets.
IS 350 models are powered by a 3.5-liter V6 that pumps out 306 hp and 277 lb.-ft., with a track-worthy 0-60 mph time of only 5.6 seconds. We found the IS 350 had plenty of acceleration and low-end thrust. Braking is firm and instant, courtesy of four-wheel ventilated discs with brake assist.
On the track, the IS 350 with the F-Sport package can make you feel like a pro, even if you dive into the apex a little early or don't track out all the way to the rumble strips. The revised electric power steering is crisp, and provides plenty of feedback without feeling overly heavy (the latter is a characteristic often favored by some boy-racers). The updated suspension keeps the car firmly planted, while allowing just enough body roll to feel where you are in space while cornering.
A comparison run in the Mercedes-Benz C350 couldn't come close. The soft brakes, light steering and comparatively sloppy handling (even in sport mode), confirmed that the Benz is best left to street cruising. That's not a bad thing, it just serves a different purpose.
The BMW 335i was a different matter altogether. One lap in this perennial favorite, and we remembered why it's the benchmark by which other performance cars are measured. With its fat steering wheel, deep rumble and turned-off traction control in Sport-plus mode, it's a machine meant for someone who really knows what she's doing. But the Bimmer isn't nearly as forgiving, as one automotive journalist from another publication discovered when he went off-roading in the 335i coming into the front straight.
The IS, on the other hand, is nearly effortless. It keeps you in check. It lets you push the boundaries but won't get out of hand. It's tossable, despite being about 40 pounds heavier than the BMW. Weight distribution is estimated at 54/46, versus the Bimmer's near 50/50 setup.
A sound generator on all models except the AWD 250 pipes in engine sound from an intake chamber. While we could hear the IS 350 F-Sport plenty well around the track, its exhaust note is distinctly different from that found on any other car in its class, and is much higher and whinier than the BMW's deep, distinctive rumble.