2014 Lexus IS Introduction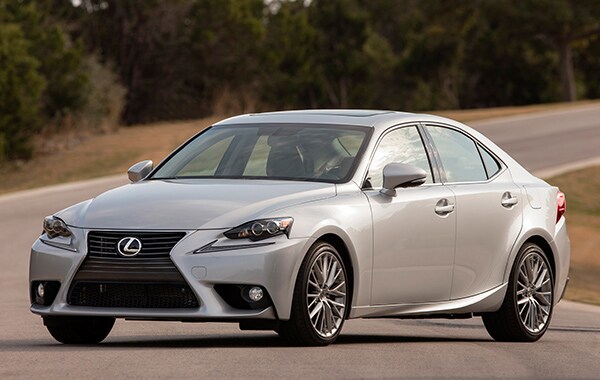 When you're a luxury car brand trying to make it in the ultra-competitive sport compact segment, you can't afford to rest on your laurels. Especially if you aren't German.
Nobody knows this better than Lexus. New for the 2014 model year is the latest iteration of the Lexus IS, the sporty sedan that's all too often dismissed as a runner-up to the BMW 3 Series. With a bold new look, sharper driving dynamics and the bevy of electronics that we've come to expect in new luxury cars, the 2014 Lexus IS holds its own on winding roads and racetracks alike.
Most noticeably, the new third-generation Lexus IS adopts the hourglass-shaped front spindle grille that first debuted on the latest-generation GS flagship, and which is, for better or worse, becoming a signature styling cue across the entire Lexus family. The Lexus IS is further differentiated by new LED daytime running lights akin to angular Nike swooshes that sit below the headlamp cluster.
Beneath the sheet metal, the 2014 Lexus IS is built on a new, rear-wheel-drive platform. The chassis has been strengthened with additional bracing and other technologies like adhesive bonding (also used on the Lexus LS), which in total make the 2014 Lexus IS more than 20 pounds lighter than the old model.
Suspension has been redesigned for 2014 for added stiffness and reduced body roll. A new multi-link rear setup not only keeps the car more planted, but, according to Lexus engineers, it allows for a bigger trunk (which is curious, considering cargo space in the new IS has shrunk). Updates have also been made to the all-electric power steering, including a revised gear ratio and improved steering feel. Brakes are still four-wheel discs, and have been tweaked for better performance.
Under the hood, the 2014 Lexus IS 250 is powered by a 2.5-liter V6 engine that makes 204 horsepower and 184 pound-feet of torque. It's good for an estimated 0-60 mph time of 7.9 seconds and gets an unofficial manufacturer-estimated 21/30 mpg city/highway on RWD models and 20/27 mpg on AWD models. That's nearly identical to the outgoing model's EPA ratings of 21/30 mpg for RWD and 21/27 mpg for AWD.
2014 Lexus IS 350 models are powered by a 3.5-liter V6 that pumps out 306 hp and 277 lb.-ft., with a track-worthy 0-60 mph time of only 5.6 seconds. Preliminary fuel economy estimates are 19/28 mpg city/highway with RWD and 19/26 mpg with AWD, one mile per gallon in city driving compared to the official EPA estimates for the outgoing IS 350.
A hybrid version of the IS is available in Europe and Japan, but Lexus has no plans to bring it to the U.S.
Toyota's 6-speed automatic transmission carries over on IS 250 models and the IS 350 AWD. The IS 350 gets the 8-speed Sport Direct Shift automatic transmission found on the current-generation IS-F performance sedan. Lexus dumped the manual transmission available on the last generation, and one marketing exec proclaimed that manuals are dead, arguing that lightening-fast shift times and predictive ability of electronics systems make old-fashioned gear-rowing obsolete.
For now, the IS-F performance sedan remains unchanged, and carries over with the previous body style.
Interior updates include a new instrument panel design, including a revised climate control panel that uses electrostatic controls for the temperature. On cars with the F-Sport package, a cool TFT display from the IS-F replaces the standard instrument cluster in front of the driver. Standard upholstery is NuLuxe polyurethane, which interior designers say holds its shape over time better than leather. Leather is optional.
Competitors to the 2014 Lexus IS include the BMW 3 Series and Mercedes-Benz C-Class, although one could argue these are different animals in the same zoo. The C-Class is a more relaxed luxurious cruiser, whereas the BMW remains a true driver's car, provided the driver knows what she's doing. The Cadillac ATS is a new, but worthy challenger.