2014 Lexus IS Walk Around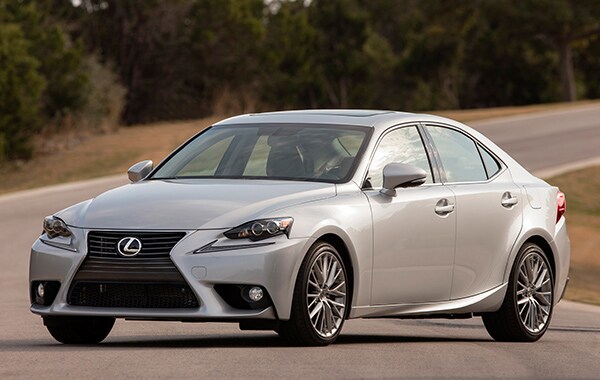 The big-mouthed spindle grille is the most noticeable design change on the 2014 Lexus IS. Love it or hate it, this new face is becoming a signature across the entire Lexus lineup. Models with the F-Sport package have a particularly gaping maw, covered with mesh and uninterrupted by horizontal lines, unlike the classier, more understated fascia of the base models. Then again, much of the grille will be covered in states requiring front license plates, at least for owners who abide by these laws.
Daytime running lights shaped like Nike swooshes, or leaning check marks, sit below the headlights, which is unusual these days; most manufacturers favor integrating the DRLs into the headlamp assembly to reduce costs. On base models, round fog lamps are set into deep, angular housings. Curiously though, Lexus deleted fog lamps from U.S. versions of F-Sport models, even though they appear on cars earmarked for Japan and Europe.
From the side, the IS has a high, deep beltline that runs straight from the hood seam to the trunk lid. Rocker panels sweep up toward the rear fender. Standard 17-inch wheels look plenty big on this car, in part thanks to wheel arch hemming, or tucked-in seams along the wheel arches. This allows the wheels to be set further out, making the wheels look more prominent. Still, the F-Sport's 18s look even better.
In back, the bumper line is high, with black plastic covering the dual exhaust pipes. Angular wraparound taillamps start narrow on the inside and grow wider, with lower outside corners that sweep down and into the rear quarter panel like butterfly wings. A triangular line frames the license plate holder, topped with the high, sharp-lipped deck lid.
Interior
In the cockpit, it's instantly apparent that everything on the redesigned instrument panel is set high-up. It's so high, in fact, that, unless you're quite tall, you can't see the car's hood from the driver's seat. The logic behind this is to keep the driver's eyes from drifting too far below the windshield.
The standard 7-inch display sits at the top of the center stack and is set far back. While some carmakers are switching to touchscreens, Lexus opted to keep its hands-off setup with a separate control button located on the center console. Although this design might frustrate iPad junkies, it does cut back on reaching over and fidgeting around while driving. Not to mention it keeps the screen free of fingerprints that can make touch-screens hard to read in bright sunlight.
Real-time traffic and weather via HD Radio are included on all models subscription-free, unlike other systems that require a monthly fee. In addition, the system uses predictive traffic information, which will give you an estimate of traffic based on historical data. On cars equipped with navigation, the map will automatically display nearby gas stations when fuel levels are low.
Beneath the screen and flanked by air vents sits an analog clock, which looks a little silly for a car that's supposed to be at the forefront of technology. Underneath is an upward-slanting panel of air conditioning controls that take up a vast amount of space a plethora of buttons. Sadly, this control panel already looks dated and doesn't match the otherwise futuristic cabin design. Temperature can be changed via electrostatic controls; simply tap, or drag your finger up and down the narrow metal lines. But we found it strange that fan speed isn't also controlled this way.
The shifter, drive mode selector and arm rest sit on the driver's side of the center console, while the passenger's side gets the rectangular knob that controls the infotainment system, as well as two cupholders that will average-sized cans and bottles.
A new steering wheel comes with buttons that control a driver information display, audio functions, Bluetooth, the voice recognition system and more. F-Sport models use a configurable TFT meter cluster, the same one found on the Lexus LF-A performance sedans, which can be configured for two different drivers.
Standard seats on all models are upholstered with NuLuxe polyurethane, which designers say holds its shape over time better than leather. Lexus is so confident in the faux stuff that they don't even offer a genuine leather option for the performance F-sport version. Those who really want to plop their backsides down onto cowhide must opt for the Luxury Package on the IS 250 and IS 350 models.
Seats on all models are well-bolstered and comfortable, and a larger colleague remarked that they seem wider and roomier than the last generation. F-Sport models have bigger bolsters for even more support.
Front legroom has increased a smidge to 44.8 inches, versus 43.9 inches in the old IS. It's sufficient for drivers of nearly any size, although the low-sitting airbag compartment will force many front passengers to keep their feet flat on the floor; no leisurely crossing of the ankles.
In back, rear legroom is improved but still tight. At 32.2 inches, the 2014 IS gains slightly more than an inch and a half over the old model, but it's still nearly three inches less than the BMW 3 Series sedan. Slimmer seatbacks on the IS do allow for slightly more rear knee room. Headroom remains the same at 36.9 inches, compared with 38 inches in the Bimmer, keeping the IS back seat off-limits for anyone taller than most Formula 1 drivers. The center rear seat is best for small adults or children, or left empty altogether. In addition, the attached rear headrests make for tight rearward visibility.
Cargo space measures 10.8 cubic feet, down from 13 cubes on the last generation. Still, that beats that Cadillac ATS at 10.2 cubic feet, but falls short of the C-Class and the 3-Series sedan at 12.4 and 13, respectively. However, the standard 60-40 split folding rear seat helps open up more space for luggage and other gear.