2014 Lincoln MKZ Introduction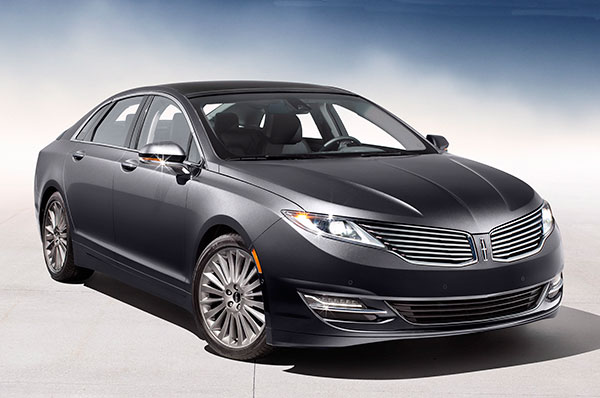 Lincoln is Ford's luxury brand, with a distinguished history during the stewardship of Edsel Ford, and a bumpy record after Mr. Ford's death during World War II. Although there have been some bright spots during the years after WWII, the division has been in decline since the turn of the current century, a slide that the parent company seeks to reverse with new products that will restore the brand's prestige.
That's what the Lincoln MKZ is all about. With slick styling, and new underpinnings, the Lincoln MKZ's mission is to put Lincoln back on mid-size luxury car shopping lists, a la Cadillac's dramatic Art and Science design breakthrough that began with the CTS sedan a decade earlier.
Launched as an all-new model for the 2013 model year, Lincoln MKZ is unchanged for 2014.
While it's not nearly as radical as the original CTS, we think the MKZ's styling does manage to stand out in a crowd, with the kind of contemporary good looks that should please an owner's eye every day. And its dynamics should do the same, long hauls or short, back roads or freeways.
But the question is whether good looks and dynamic competence are enough to give the MKZ an edge in a very competitive luxury class. We'll come back to that question. First, the fundamentals.
The Lincoln MKZ is based on the same foundations, and shares its powertrains with, the Ford Fusion. Much has been made of this in various reviews, many of them negative. The reasoning: the MKZ is essentially just a fancier version of the Fusion, and not really luxurious enough to justify its higher pricing: about $5000 more for our test subject than a comparably equipped top-level Fusion Titanium with all-wheel drive.
This oft-repeated theme is not entirely fair. Shared platforms and powertrains are common in today's industry, and employing Fusion bones for the MKZ unibody is not at all a bad thing. The chassis rates well in terms of structural rigidity, which is the fundamental starting point for all vehicle dynamics.
That's an area where the MKZ measures up quite well versus some esteemed members of the luxury establishment, a noteworthy achievement for a front-wheel-drive design in a segment dominated by rear-wheel-drive cars. To mitigate this, MKZ is available with all-wheel drive, but even front-wheel-drive versions inspire confidence, thanks to Lincoln Drive Control, a semi-active damping system with three pre-sets (Comfort, Normal, Sport) that produce noticeable differences in handling response. It's a feature you won't find in a Fusion.
There are three power options: a 240-horsepower turbocharged 2.0-liter four-cylinder called EcoBoost, a 300-horsepower 3.7-liter V6, and a hybrid with a 141-horsepower 2.0-liter four-cylinder augmented by a 118-horsepower electric motor. The turbo four and the V6 are paired with 6-speed automatics, while the hybrid transmits propulsion to the front wheels via a continuously variable transmission (CVT).
Like the exterior styling, the MKZ's interior design can't be confused with that of the Fusion, with different looks, different materials, although one may question whether the materials are significantly more luxurious. On the other hand, the MKZ does have some unique interior elements. The power moonroof could double as the main hatch on a Great Lakes freighter, the transmission responds to pushbutton controls set in a vertical dashboard housing flanking the instrument pod (as well as steering column paddle shifters), and rear seatbelt airbags are available.
Fuel economy ratings are adequate for a car in this class, though unexceptional. With all-wheel drive, MKZ gets an EPA rating of 22/31 mpg City/Highway. The hybrid, predictably, does much better: 45/45 mpg, but it comes with tepid acceleration. If 0-to-60 mph is a priority, the V6 is the MKZ champ, sprinting to a mile-a-minute in just over six seconds, at the expense of fuel economy (18/26, according to the EPA).
On the up side, the MKZ is a generally smooth operator, exceptionally quiet, with a level of fit and finish worthy of this category. That, plus stylish good looks, may be enough to make it at least a plausible alternative in a very strong class.