2014 Mazda 2 Driving Impressions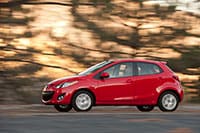 The 1.5-liter engine in the Mazda2 is one of the smallest gasoline engines on the U.S. market, but its performance is exciting for its size. We drove the 5-speed manual version, and had doubts that Mazda's 4-speed automatic would be quite as much fun. But it's perhaps more practical for stop-and-go city driving, and will doubtless satisfy plenty of Mazda2 owners who aren't all that interested in shifting manually.
The engine pulls well at lower revs and comes on stronger at 4000 rpm where the torque peaks. It sounds good above 4000, and zings responsively all the way up to the 6300-rpm redline. It's not exactly gutless, but it doesn't have the oomph of the Ford Fiesta's 1.6-liter engine with its 119 horsepower.
At 75 or 80 mph, the Mazda2 is smooth. The brakes have a nice responsive feel, and stop the lightweight car quickly. Vented discs are used in front, drums in the rear, with ABS, brake force distribution and Brake Assist.
The suspension is fairly conventional, with MacPherson struts in front and a trailing-arm torsion beam in back. We drove the Mazda2 over twisty two-lanes on the California coast, and found that it cornered flat and sucked up most bumps. The electric power steering reacts quickly.
In a subsequent test of an automatic Mazda2, the transmission delivered curt, crisp gear changes, just noticeable enough to keep the driver aware. Acceleration was modest, both from start-up and when passing/merging, but the automatic Mazda2 is still an enjoyable little runabout.