2014 Mazda 2 Introduction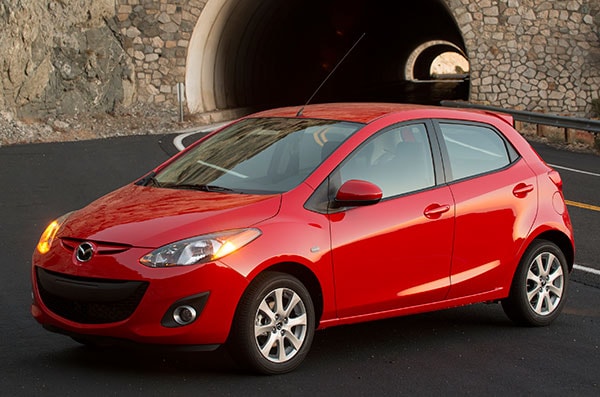 Mazda2 is a five-seat subcompact hatchback, with front-wheel drive and eye-catching style. After earning numerous product awards in the European and Asian markets, the Mazda2 was launched in the U.S. as a 2011 model.
New for 2013 was a USB port for the Mazda2's standard audio system. Nothing has changed for the 2014 model year, apart from three new color choices.
A soft wedge shape defines the Mazda2. It's bold and sporty with sculpted sides, body-colored door handles, a laid-back windshield, and sloped hatch. A jaunty little spoiler sits at the rear of the Touring model. Up front, a big, grinning front grille leads into an attractive hood, fenders, headlamps, bumper, and air intakes. All Mazda2 hatchbacks ride on 15-inch wheels.
The Mazda2 uses a well-proven 1.5-liter, double-overhead-cam, 16-valve four-cylinder engine with variable valve timing. to give it more flexibility in delivering low-rpm torque and high-rpm horsepower. It's paired with either a 5-speed manual or a 4-speed automatic transmission.
In pursuit of good gas mileage, acceleration and responsive handling, Mazda focused on keeping the car light, by using high-strength steel with more welds (and less steel overall), augmented by weld-bonded adhesives in the body. Engineers looked for dozens of places to save a few pounds; for example the wiring harness, door locks and latches, radiator, automatic transmission shifter, pedals, and even the stereo speakers.
As a result, the 2014 Mazda2 is the lightest subcompact sold in America: even lighter than the smaller Fiat 500, and way lighter than the Ford Fiesta, although the Toyota Yaris runs a close second to Mazda's smallest.
The hatchback's svelte 2306-pound curb weight (2359 with automatic) helps it achieve an EPA-estimated 29/35 mpg City/Highway with the manual gearbox, or 28/34 mpg with the automatic.
Mazda2's 100 horsepower and 98 pound-feet of torque are not big numbers, but there is plenty of power for everyday driving and the Mazda2 is way fun to drive. We liked the thick, sporty steering wheel and responsive steering. Shifting the manual 5-speed is slick and easy and brake feel and performance are good. Mazda2 rides smoothly, and its small footprint makes it easy to maneuver and park in city traffic.
Seats are comfortable and supportive. The Mazda2 is relatively roomy for four, but five is a crowd. Fold the rear seats down and it offers an excellent 27.8 cubic feet of cargo space, with easy access through the hatchback.
Available accessories for the 2014 Mazda2 are geared toward weekend warriors and include a roof rack, roof basket, cargo box, bike rack, ski rack, snowboard rack, surfboard rack, and kayak carrier.
Partly because mini-size hatchbacks are less popular in the U.S. market than in other parts of the world, the Mazda2 has been a bit slower to catch on at American dealerships. Mazda's compact-size Mazda3, offered as either a sedan or a hatchback, bests the "2" by a substantial margin.
Competitors to the Mazda2 are numerous, and include a roster of small hatchbacks: Chevrolet Sonic, Ford Fiesta, Toyota Yaris, Nissan Versa Note, Honda Fit, and Hyundai Accent, as well as the newly-reworked Kia Soul. All of these, with the exception of the Fiesta, beat the Mazda2 on rear legroom. The Fiesta offers similarly sporty driving dynamics. The Sonic is also available with a more powerful, turbocharged engine.