2014 Mazda 2 Summary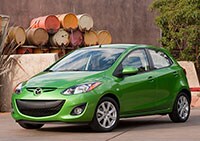 Mazda2 is a good choice in the subcompact segment for those looking for sporty driving dynamics and distinctive design. However, other competitors offer more rear legroom and better overall value for the money.
Sam Moses reported from Southern California, with Jim McCraw in Monterey, and Laura Burstein reporting from Los Angeles.