2014 Mazda 5 Summary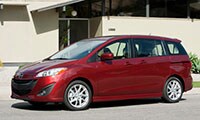 The Mazda5 is a unique vehicle that offers the sliding doors of a minivan and the versatility of a wagon, in a smaller package. Drivers get a more sporty feel than in any conventional minivan.
Jim McCraw reported from Coronado, California, with Laura Burstein reporting from Los Angeles.