2014 Mazda 6 Introduction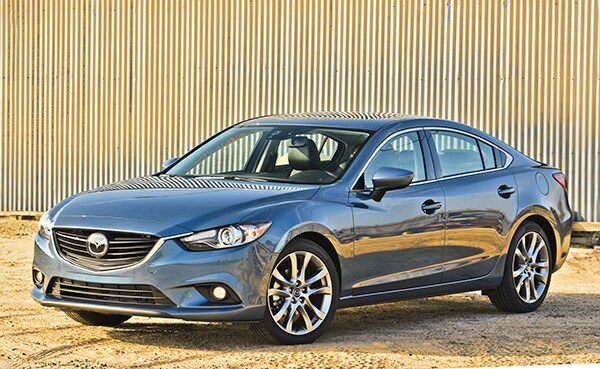 With a stunning new design, a retooled powertrain and more standard features, the 2014 Mazda6 is a great alternative in a sea of boring family sedans. Combined with Mazda's famously sporty driving dynamics, the Mazda6 earns its place as one of the coolest cars its class, without sacrificing the practicality of a midsize four-door.
Everything is new, from bold exterior lines inspired by Mazda's Shinari concept car to the powertrain. Even the manufacturing process was retooled at Mazda's assembly plant in Hiroshima, Japan for faster, more flexible production.
The Mazda6 uses Mazda's Skyactive technology, a collection of systems and techniques first employed on the CX-5 crossover that reduce weight and increase efficiency. At the heart of it lies a 2.5-liter inline-4 that makes 184 horsepower and 185 pound-feet of torque (Mazda said sayonara to the old V6). A new injection system and race-style exhaust manifold help the new Mazda6 achieve more torque and power than the previous engines, while reducing emissions.
The standard transmission on the base model is a 6-speed manual, which now comes standard with a hill-hold feature. An all-new automatic transmission is standard on the mid-level Touring and upper Grand Touring model. It's a hybrid of a traditional torque converter, which kicks in at speeds of less than 5 mph, providing the driver with the familiar creep of automatic transmissions, and a dual-clutch that operates at higher speeds, providing quicker, more seamless shifts. Like most cars in this class, Mazda6 is front-wheel drive.
Other elements of Skyactive include a lighter, more efficient frame, which engineers tweaked using straighter lines and different welds. High-tensile steel comprises 58 percent of the Mazda6's body weight, which is a relatively lean 3,183 pounds on the base model with the manual transmission. That's a few pounds lighter than the Honda Accord, and nearly 300 pounds lighter than the Ford Fusion. Other changes include fully electric steering and a revised suspension, which result in a more dialed-in feel, with less road shock and more stability under braking.
The new package results in a significant improvement in fuel economy over the outgoing model. EPA estimates for the 2014 Mazda6 are 25/37 mpg City/Highway with the manual and 26/38 mpg City/Highway with the automatic, up from 21/30 mpg in the previous model with either transmission.
New standard features make their way onto the new Mazda6, including push-button start, a USB port, 17-inch alloy wheels on the base model, and 19-inch alloys on the top-tier Grand Touring trim. Strangely, though, Bluetooth does not appear on the base Sport trim with the manual transmission; this requires a step up to the automatic. It's a curious move, considering Bluetooth connectivity comes standard on many smaller cars these days, not to mention that someone who drives stick could benefit even more from the hands-free feature.
Standard on the top-tier Mazda6 Grand Touring model and optional on the mid-grade trim is a bevy of new safety tech, including a blind spot monitoring system with cross traffic alert, lane departure warning, radar-based adaptive cruise control and forward obstruction warning. These features will alert the driver to potential problems, but unlike some current safety systems, the ones found on the Mazda6 won't brake automatically or drive the car for you. Mazda's approach leaves the action to the driver, encouraging personal responsibility in an age full of electronic babysitters.
Later this year, the Mazda6 will be available in a 2.2-liter clean diesel version, as well as in a gasoline variant that uses a proprietary regenerative braking system, called i-ELOOP, which should improve fuel economy over the current Mazda6 models (although Mazda execs decline to say exactly how much of an improvement that might be).
Competitors to the Mazda6 include front-wheel-drive midsize sedans such as the Ford Fusion, Honda Accord, Hyundai Sonata, Nissan Altima and Toyota Camry. The Mazda is the sportiest of the bunch, although those who choose a car based primarily on driving dynamics might also consider the Volkswagen Passat.