2014 Mazda CX-5 Introduction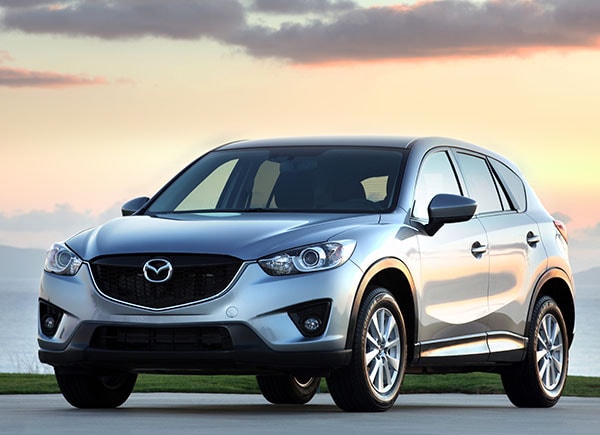 Introduced for 2013, the Mazda CX-5 was a totally new five-passenger compact crossover utility vehicle. Largely defined by the Honda CR-V for the past decade, the rapidly expanding compact utility vehicle category includes the Ford Escape, Toyota RAV4, Nissan Rogue, Kia Sportage, and Subaru Forester.
The Mazda CX-5 distinguishes itself from the other CUVs with its sleek styling, excellent fuel economy and agile handling. It looks great and it's more fun to drive than the Honda or Toyota.
The initial Mazda 2.0-liter four-cylinder engine, rated at a modest 155 horsepower and 150 pound-feet of torque, delivered respectable performance on the road, but some competitors offered more power.
For 2014, Mazda CX-5 is available with a new Skyactiv-G 2.5-liter four-cylinder, whipping up 184 horsepower at 5700 rpm, and 185 pound-feet at 3250 rpm. Compared to the 2.0-liter, that's 19 percent more horsepower and 23 percent greater torque. 2014 Mazda CX-5 Touring and Grand Touring editions get the new engine, while the CX-5 Sport model sticks with the original 2.0-liter, and remains available with a manual gearbox.
2014 Mazda CX-5 models also offer a new Smart City Brake Support system with Touring and Grand Touring Technology packages. Those models no longer include a burglar alarm.
Mazda CX-5 is not based on other Mazda vehicles but was instead designed from scratch, and features new underpinnings and technology Mazda intends to adapt to future vehicles. The CX-5 is larger than it looks. Its overall length, width, and height are nearly an inch larger than those of the Honda CR-V. However, at 106.3 inches, the CX-5 wheelbase is 3.2 inches longer than that of the CR-V; a longer wheelbase generally equates to improved ride quality and high-speed stability.
Fuel economy is a definite plus. With the 2.5-liter Skyactiv-G engine and front-wheel drive, the 2014 Mazda CX-5 gets an EPA-rated 25/32 mpg City/Highway. All-wheel drive drops the estimate to 24/30 mpg. A CX-5 Sport model with the original 2.0-liter gets an EPA estimate of 26/35 mpg with front-wheel drive and a 6-speed manual transmission, or 26/32 mpg with the available 6-speed automatic. Mazda claimed the 2.0-liter CX-5 got the best fuel economy in its class and the best highway mileage of any SUV. All models run on less-expensive Regular Unleaded gasoline.
Light weight is another Mazda CX-5 advantage. CX-5 weighs just 3,375 pounds when equipped with front-wheel drive and the Skyactiv-G engine, a benefit of its lightweight engine, a chassis structure made largely of high-tensile steel, and other weight-saving strategies.
A 6-speed manual transmission is available on the Sport with front-wheel drive. CX-5 models equipped with the larger Skyactiv-G engine, or a Sport model with all-wheel drive, come with a 6-speed automatic.
CX-5 offers excellent fuel economy, superb road manners, attractive styling, and an array of telematic features. We were particularly impressed with the comfort, versatility, road manners, and safety features of both models. The CX-5's agility and exceptionally accurate steering make both versions entertaining to drive. While acceleration is so-so with the smaller engine, the larger engine competes well with the other vehicles in the class.