2014 Mazda MX-5 Introduction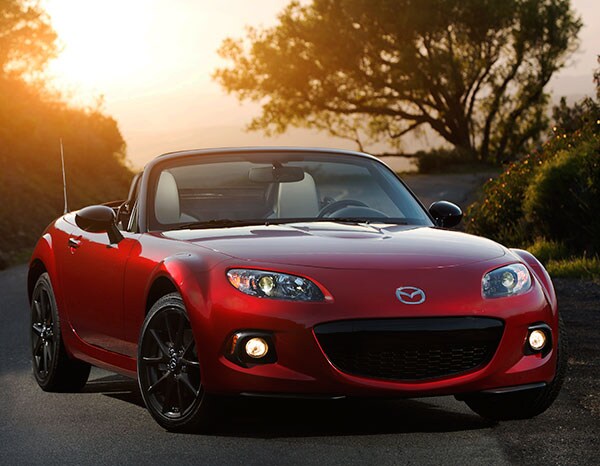 Now celebrating its 25th anniversary, the Mazda MX-5 Miata still defines what a pure sports car should be: A two-seat roadster with rear-wheel drive that's fun on the street and on the track. Mazda Miata is attractively priced, relatively easy to maintain, and won't break you at the gas pump. Adding to its attractiveness, the MX-5 Miata is a superbly engineered sports car when it comes to acceleration performance, braking, gearbox operation, suspension actions, and cornering behavior.
Except for new color options, nothing has changed for the 2014 model year. For 2013, the MX-5 earned a mild refresh, including redesigned front and rear ends. A new Club trim level replaced the prior Touring version, joining the Sport and Grand Touring editions. An all-new MX-5 Miata is scheduled to debut in the first quarter of 2015 as a 2016 model.
Miata was launched in 1989 as an early 1990 model and in all those years its character has not changed. Although Mazda has improved the Miata (while adopting the MX-5 designation, in accord with other models in the lineup) and updated the sports car over the years, its spirit remains intact. Most notably, this two-seater will still leave its drivers grinning.
The Mazda MX-5 rewards its driver with loads of satisfaction and excellent value. In fact, it remains the standard by which affordable sports cars are judged. With a weight distribution of 51 percent over the front wheels and 49 percent over the rear in the power hardtop model (52/48 in the convertible), the MX-5 offers marvelous agility and balanced handling.
The 2014 Mazda MX-5 Miata is powered by a 2.0-liter, 4-cylinder engine that makes 167 horsepower (at 7000 rpm) with manual transmission and 158 hp with automatic. Both powertrains are good for 140 pound-feet of torque. Fuel economy is about average for this league, with an EPA-estimated 22/28 mpg City/Highway for the 5-speed manual. Both automatic and manual 6-speed transmissions are rated 21/28 mpg.
Roof choices on the MX-5 include a simple vinyl or cloth top, which operates manually; or a Power Retractable Hard Top (PRHT), which features a composite roof that lowers in seconds at the touch of a button. The hard top offers reduced wind and road noise over the soft top, as well as increased security and a sense of solidity. Drivers concerned with weight should note that it does add about 80 pounds to an otherwise very light car.
A variety of MX-5 models, along with two suspension setups and dozens of dealer-installed options and accessories, allow for plenty of personalization. Track-day warriors might opt for a basic Sport model with cloth upholstery, manual air conditioning, a simple stereo, and 5-speed manual transmission. Those looking for a more luxe experience might choose leather upholstery, automatic climate control, the automatic transmission, and the upgraded Bose audio system, which remixes sound in real time to compensate for ambient noise with the top down.
It's tough to name any direct competitors to the 2014 Mazda MX-5 Miata. This car offers the fun of more expensive roadsters such as the BMW Z4, but without the hefty price tag. Size-wise, the MX-5 has an edge over the Mini Cooper Convertible and the Fiat 500C. Both of those have a small back seat, while the MX-5 Miata is strictly a two-seater. Also, those other cars are front-wheel drive whereas the Miata is rear-wheel drive, which is why it is so much fun to drive.
On another level, enthusiasts might also want to look at the Ford Mustang V6 convertible, which offers track-worthy performance with larger dimensions and greater mass for a very different driving experience. Those who aren't attached to a topless sports car might also consider the Scion FR-S or Subaru BRZ, rear-wheel-drive coupes that are the closest to the MX-5 in terms of driving fun.