2014 Mercedes-Benz CLA-Class Driving Impressions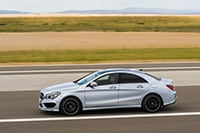 Performance is adequate in the Mercedes-Benz CLA250. The CLA250 uses front-wheel drive, which lacks the sportier driving characteristics of rear-wheel drive. The turbocharged 2.0-liter four-cylinder engine makes the most of its 208 horses, with torque that's fully available from as low as 1250 rpm, for good low-end boost. The engine is noisy when accelerating hard and at higher revs, normal for an engine of this size.
The 7-speed dual-clutch transmission shifts quickly, though shifts feel hard when accelerating quickly. CLA250 models equipped with the sport package and all CLA45 AMG models have three drive modes: Comfort, Sport and Manual, the latter of which allows the driver to select gears via the steering-wheel-mounted paddles. Modes alter shift points and throttle mapping to be either more efficient or more sporty, but different settings do not change steering or suspension like many performance-oriented cars. Comfort is best for commuting, while Sport is better for spirited driving.
Steering in the CLA250 is fine for driving around town. In the center, it feels a bit numb; Mercedes-Benz engineers say this is by design, so the range is more comfort-oriented in straight lines. Only on twisting roads does the steering feel more direct, when the steering wheel is at a sharp enough angle for the system to tighten up.
Ride quality is on the firm side, but it's not teeth-chattering. Our CLA250 test car was equipped with optional 18-inch wheels with performance tires, which come at the expense of ride quality and increased road and tire noise. The 17-inch wheels and tires that come standard on the CLA250 should, in theory, be quieter, but we have not driven it and verified that.
The CLA45 AMG is a whole other animal. It has plenty of pep and handles winding roads much better with its 4MATIC all-wheel drive. Steering is more direct and precise in the CLA45 AMG, and it handles nicely. The sound of its 355-hp turbocharged 2.0-liter inline-4 is its most compelling element, with an obnoxious whine that lets others know you're coming. Downshifts come complete with a loud crackle, adding insult to injury when passing other drivers.