2014 Mercedes-Benz CLA-Class Summary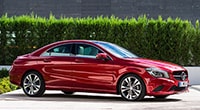 The 2014 Mercedes-Benz CLA is a fine daily driver with a comfortable cabin for those looking to take the leap into luxury car territory, but it lacks the athletic handling of rear-wheel-drive vehicles around the same price. The CLA45 AMG is fun to drive and sounds great, though there are plenty of worthy competitors at the near-$50k mark.
Laura Burstein filed this report after her test drives of the CLA250 and CLA45 AMG around Washington.