2014 Mercedes-Benz S-Class Driving Impressions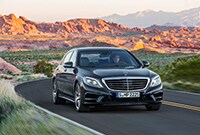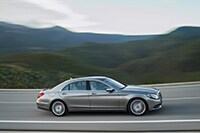 Solid and stable, the 2014 Mercedes-Benz S-Class performs as advertised: It is fast without any touch of drama, monolith-solid, and, once you figures out the buttons and the controls, awesome in terms of its tricks.
By trimming mass with extensive use of aluminum, the 2014 S-Class is a finesse-balancing act on the road, totally isolated from wind and road noise even at prodigious highway speed. The firmed-up air suspension dismisses potholes with a soft thump (we only found one pothole in Canada), and rough tarmac is history thanks to the optional Magic Body Control system. Occasionally at lower speeds in traffic, we felt an awkward little bark from the transmission as its settles into what's usually the appropriate gear, thanks to the dual-clutch.
Steering feel is light and neutral, as we'd expect in this class. Several curves set up a suggestion of body lean but didn't upset the civility in the cabin.
Peering over the long, flat hood, sightlines are excellent, as are the ergonomic visibly of the major controls.
We had the chance to experiment with some (but not all, there are too many) safety systems available in the 2014 S-Class.
The autonomous Mercedes isn't here yet, but one can option Distronic Plus with Steering Assist and Stop & Go Pilot, which allows for hands-free driving at 37 mph, as the stereo cameras follow the car ahead, even on gentle bends, says Mercedes. The system uses both the car you're trailing, as well as road markings, to keep centered in your lane. It's all part of the $2,800 Driver Assistance Package, which also includes Mercedes's Pre-Safe Brake. Using data from radar and the camera, it will automatically apply braking at up to about 30 mph without driver input if it detects a pedestrian or stopped vehicle. Jetsons stuff.
The S550 and S550 4MATIC use a 4.6-liter that produces 455 horsepower from 5250 to 5500 rpm and 516 foot-pounds of torque from 1800 to 3500 rpm. Mercedes-Benz says these two models can accelerate from 0 to 60 mph in 4.8 seconds. Top speed is limited to 130 mph. Fuel economy data were not available from the Environmental Protection Agency at press time.
The S63 AMG features a twin-turbocharged 5.5-liter V8 with an output of 577 horsepower and 664 foot-pounds of torque. Mercedes-Benz USA claims the S63 AMG can accelerate from 0 to 60 mph in 3.9 seconds.