2014 Mini Cooper Driving Impressions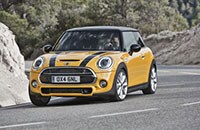 As before, the 2014 Mini Cooper retains its sporting character, yet can be comfortable enough as a daily driver.
Mini Cooper and Mini Cooper S models are available with a choice of two transmissions: a 6-speed manual or a 6-speed automatic. On cars equipped with the automatic gearbox and navigation, the transmission uses GPS to identify the car's location and map out possible drive routes. It then adjusts shift points accordingly for better performance.
In the past we'd recommend the manual transmission hands-down over the automatic, as rowing through the gears can give the driver a greater sense of engagement. Now, BMW's automatics are getting so good, they're faster and more fuel-efficient than their stick-shift counterparts. For this reason, we'd opt for the automatic except for someone who loves a traditional manual.
We had to work the Mini Cooper's 1.5-liter inline-3 hard to eke out peak performance. With our manual transmission, we found ourselves wanting more out of third gear on winding, narrow roads in Puerto Rico. On straightaways, we could pull away from rusty old pickup trucks just fine, provided we didn't upshift too soon. We came away thinking the base model was best for city driving or the daily commute.
More power and torque makes the Mini Cooper S a truly fun car. Acceleration is peppier thanks to the 2.0-liter inline-4, and the automatic transmission provides enough oomph to merge and pass with ease. What's more, on cars equipped with navigation, the automatic transmission uses GPS to determine the car's location and maps out possible drive routes, adjusting shift points to maximize performance.
Ride and handling in the 2014 Mini Cooper is more refined than in the past. Adjustable driving modes include Mid, Sport and Green, which adjust throttle mapping, steering response and engine acoustics from conservative to aggressive (for added fun, Sport mode is displayed on the screen as a rocket ship icon next to a go-kart).
Mini's signature quick steering is still present, but the new setup doesn't feel as darty. The chassis is still stiff and responsive, with practically no body roll around corners. It's quick and agile, which came in handy many times while dodging stray dogs, chickens and islanders haphazardly crossing the road during our test drive. Variable ratio steering adjusts according to speed and driving style, requiring less effort in parking lots and tightening up around corners at faster speeds. The Mini's tight turning circle came in handy many times when pulling U-turns on narrow roads after missing poorly marked turns.
Suspension has been revised, and as a result, doesn't feel as teeth-chattering as before. Part of this is aided by the longer wheelbase, which absorbs the shock of the road a bit better. Still, after driving the base model with the sports suspension for a few hours of the many-rutted roads on the Isle of Enchantment, we felt like a well-played vibraphone. For 2014, optional dynamic damper control is available on both models for the first time, which should handle varied road conditions with a bit more panache. But even with the extra help, we'd guess the Mini Cooper's ride is definitely not cushy. But those used to the Mini's road manners will find the new model has a more refined feel.
Brakes handle stopping with ease, even when we mashed them on at the last second on newly wet roads to avoid a suddenly stopped gravel truck. Cooper S models have larger front brakes for even greater stopping power and more resistance to fade.
Our Mini Cooper S was equipped with automatic Stop/Start, which kills the engine and saves fuel when the car is at idle. As with BMW cars that use this system, the Mini's system kicks in quickly and starts up with an invasive shutter. Fortunately, pressing a button turns this feature off until the next time the car is started.