2014 Mini Cooper Walk Around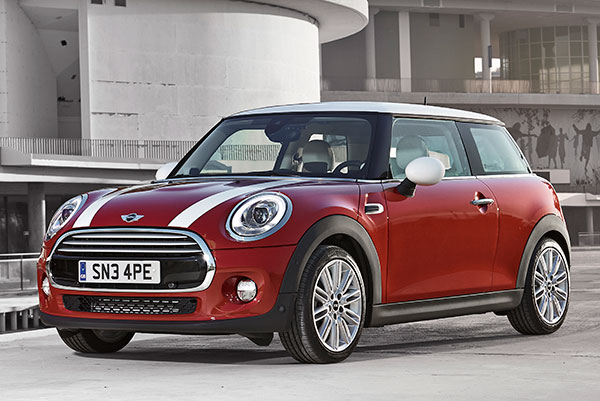 Although it's grown in size, the 2014 Mini Cooper hardtop is still instantly recognizable. Exterior design retains a three part shape, consisting of the body, roof and greenhouse (the daylight opening created by the windows), available in a wide array of contrasting color combinations.
Up front, the hood sits noticeably higher. The hexagonal grille shape remains, with its aggressive, wide-mouthed opening. Base Coopers feature three chrome horizontal bars across the top grille opening; Cooper S models get a black, honeycomb-pattern mesh insert and a wider lower air intake. Optional LEDs make the Cooper's circular, eye-like headlamps pop.
From the side, the 2014 Mini Cooper has a higher beltline, keeping it in proportion with its new, inflated dimensions. The windshield is more sharply raked than before. Wheel arches are high and defined, and as before, the Cooper keeps its flat roofline. A variety of wheel sizes, styles and finishes are available.
In the rear, the hatch is framed by large, ovalish taillights. Base Cooper hardtops get a single tailpipe on one side, while Cooper S cars get twin center exhaust pipes. The Cooper S also gets a unique lower rear bumper and a roof spoiler.
Interior
Inside, circular shapes are echoed everywhere, from the air vents, speakers and door pulls to the gearshift surround. Interior materials look and feel upscale, and are well suited to the Mini's personality.
Of note, the speedometer, which has historically lived in the center stack, has been moved in front of the driver. This makes for much quicker reference while driving. The large, round binnacle vacated by the speedo now houses a large display screen. The car starts up with a flick of an analog-style switch in the center stack, and the ring surrounding the display screen glows red.
The MiniConnect infotainment system lets users pair Apple or Android smartphones for access to apps like Facebook, Pandora, Twitter and Rhapsody. MiniConnect shares commonalities with BMW's iDrive, and is set up similarly. A large knob and surrounding controls on the console lets users scroll and select functions. It's relatively easy to access most functions, but can be clunky when trying to change navigation settings or other preferences.
Seats in the Mini Cooper feel like they're built for those who are tall and lean, and those who do not fit this profile may not be completely comfortable. Petite drivers may find the seat cushions too long, with a lumbar support that hits in the wrong place. There's plenty of lateral support thanks to the Mini Cooper's aggressive side bolsters, but those without svelte frames may find them too confining.
Interior storage space is not abundant, and is best suited for short trips. Two cupholders on the center console hold average- to large-sizes bottles. A small tray to the fore of the gearshift holds a mobile phone. Side door pockets are narrow and will fit papers and small electronic devices, but not beverages.
Rear seating is slightly improved over the previous Mini Cooper hardtop, which was barely habitable for adults. Now, the 2014 Mini Cooper has nearly an inch more legroom than before. And because of its boxy roofline, there's still adequate headroom for most adults, though it's reduced slightly compared to the outgoing model. It's a cozy fit, but would be livable for short trips.
Cargo space is also improved from the last version, measuring 8.7 cubic feet, a compared with only 5.7 cubes in the old model. It's enough to fit a medium-sized suitcase. For more storage, the rear seats fold flat.
Because of its expansive windshield and relatively narrow A-pillar, outward visibility in the 2014 Mini Cooper is excellent. Side-view and rearview visibility is fine. The only potential issue stems from the fact that the Mini is still small, so, as with other small cars, one's view of the road ahead can be blocked by larger cars or SUVs.