2014 Nissan 370Z Summary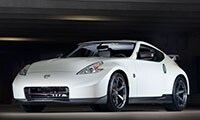 Great power, light weight, fantastic handling, beefy brakes, slick aerodynamics, bold styling, good fuel mileage, great 6-speed gearbox; optional 7-speed automatic with paddle shifters, even a Roadster. Base price of less than $30k makes it an impressive value among high-performance sports cars.
Sam Moses reported from the Pacific Northwest, with Barry Winfield reporting from Spring Mountain Motorsports Park in Nevada, and Kirk Bell in San Francisco.