2014 Nissan Altima Driving Impressions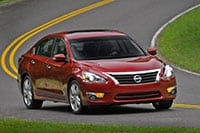 The 3.5-liter V6 Altima, with its 270 horsepower and sporty paddle shifters, can accelerate from zero to 60 mph, Nissan says, in 6.2 seconds. That's very quick for the class in our book, and Nissan proudly notes it's fastest in class.
The 2.5-liter four-cylinder engine, with 182 hard-pressed horsepower, is considerably slower. Nissan says the Altima 2.5 can perform 0-60 in just 7.14 seconds. We're skeptical. AutoWeek reported this feat took 8.0 seconds, and we think that's closer to reality. Of course, achieving 38 mpg, one necessarily must accept a bit of huffing and puffing, and with the 2.5, we got it. As the song says, it works hard for the money.
On the other hand, if you don't mind a bit of yowling from underneath the hood, or better yet, if you're not in a breathless hurry, as many hundreds of thousands of Altima drivers before you have not been, the 2.5 will be satisfactory. Not vigorous. Satisfactory.
And startlingly efficient. The secret of the Altima four-cylinder's thrift is a quantum leap in efficiency and reduced internal friction in its very unusual CVT (continuously variable transmission). Nissan has fought long and hard to develop this transmission, and for a number of years, it delivered woozy forward progress that made you feel like you were being dragged behind a huge rubber band. But the potential of the CVT was always there, chiefly that when an engine reached its cruising speed, the transmission could drop the engine down to an extremely low engine speed and deliver stunning fuel mileage. The Altima is there. At 70 mph, with the help of its CVT, we saw the Altima's engine speed maintain an ultra-low 1650 rpm, barely a pulse, barely sipping gasoline. While the competition is loading up its invoices with the expense and complexities of hybrids, Nissan snuck under the wire and beat a bunch of them. Nissan was an early adopter and a leader in CVT technology.
In keeping with its upscale aspirations, the Altima's ride and highway behavior are suitably quiet and refined. All models of the Nissan Altima have Active Understeer Control, a system which applies small amounts of braking to the inside front wheel to overcome the Altima's tendency to resist vigorous turning into a corner. Cornering poise is further aided by stabilizer bars front and rear, and by ZF Sachs shock absorbers that provide sturdy body control. We weren't in driving circumstances where this hardware could be fully tested, though in forceful driving on normal roads, the car's turn-in and stability were good.
Similarly, the Altima's rear suspension is a multi-link system with firm bushings, providing solid lateral response. Overall, the Altima is a family sedan with little sporting character. It is assuredly a safe over-the-road package, but it lacks the agility and fun-to-drive spirit of a true sports sedan. But the active presence of understeer control, Vehicle Dynamic Control (VDC) and traction control, each fully automatic and self-activating, combine to give this car the full degree of modern safety and security.
The four-wheel disc brakes, too, are equipped with ABS and electronic brake distribution, delivering minute degrees of braking control in slippery conditions that even the most skilled driver would be hard pressed to match. And when the rains come and the Altima's wipers are switched on, the headlights come on automatically, complying with laws in effect in many states.