2014 Nissan Altima Walk Around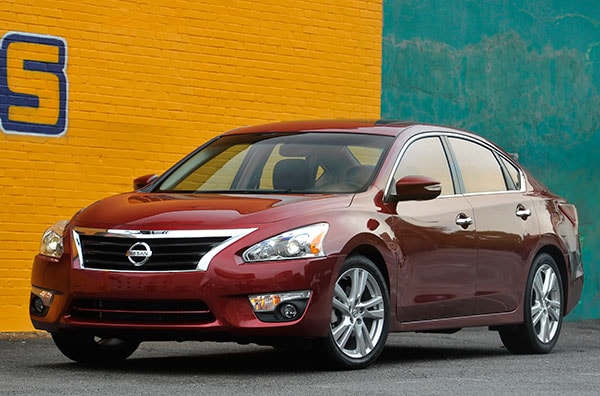 The Nissan Altima has a sleek, dynamic, cutting-edge stylishness that is decidedly imposing. The latest Altima is in some ways a class above its competitors. For instance, the Altima has the same wheelbase as the previous-generation model, but both its front and rear track are 1.4 in. wider, and its fenders are deeper. This gives it a muscular, sporting stance that sets it apart from some of the other midsize sedans.
The car features a blacked-out grille with a chrome surround, very a la mode, and a zoomy, striking headlight cluster. A short hood blends with a steeply canted windshield in what was once called cab-forward styling. A pronounced character line runs high along the side of the cab towards the rear, but the Nissan stylists avoided using multiple character lines and cluttering Altima's look, as some others do. The profile is clean and elegant. Chrome trim around the windows and bright, dressy 10-spoke wheels give the Altima a near-luxury glamour.
At the rear, a bold chrome bar, almost startling in its impact, rides above the ending of the side character lines at the bottom of the trunk. The trunk lid reveals a conveniently low lift-over height of only 26.9 inches, and there are dual chrome tailpipe outlets, de rigeur these days, no matter which engine is installed. Side mirrors with redundant turn-signal lights are a nice safety provision.
Overall, the Altima looks stylish, aggressive and sporting. In the upper levels of trim, it looks more expensive than it is. Nicely done.
Interior
The Nissan Altima lineup offers a broad range of interior furnishing levels. The SL trim is positively elegant and richly equipped. In the SV, the interior is a step down from the top-end SL but still highly satisfactory.
The 2.5 SV we used for our test drive had fawn cloth upholstery. The white-on-black gauges were handsome, immediately legible, and were surrounded by excellent soft-touch dashboard padding. The tachometer displayed a 6600-rpm redline for the 2.5. We missed the paddle shifters, available only on the 3.5 models. But in the 2.5, intelligent circuitry and the CVT (continuously variable transmission) regulate engine speed automatically. The power driver's seat had 6-way adjustability, and a nice leather-wrapped steering wheel presented the usual audio and cruise controls, plus controls for the navigation system. The Navigation system in our SV delivered good information via simple, effective graphics. A one-touch open/close moonroof with a manual sunscreen was included as part of the SV Convenience Package.
One point particularly worth mentioning about the Altima is its quietness. Considerable effort was made to rigidify the body structure and soundproof its panels. This contributes strongly to the car's class-above impression, quietness being one sure hallmark of luxury cars. But the materials that silence cars also add weight. Nissan was nonetheless able to reduce the Altima's weight from that of the previous model by 79 pounds, which is no mean achievement.
Nissan's Zero-Gravity seats are designed to provide uniform support from pelvis to chest. The benefits of these seats are said to be felt on long motor trips. They seemed comfortable enough to us, but we didn't take a long enough trip to notice anything exciting.
More exciting to many owners are the Altima's electronic connectivity packages. All models are furnished with Bluetooth hands-free phone systems and streaming audio. Also available are a hands-free messaging assistant, Pandora integration, and USB connection for iPod interface and satellite radio. The advantages of managing text messaging hands-free are so enormous, we can't begin to say enough about them. You can reply with pre-set texts like "driving, can't text," "on my way," or a custom message. Invaluable. Safety advocates, and motorists who would rather drive than send/receive messages, have a far different view.
And there's more. Advanced Drive-Assist Display, standard on every model, is located between the speedo and tachometer, a four-inch color display that is much easier for the driver to use than the console-mounted navigation monitor. It delivers mpg, audio information, trip computer, tire-pressure information, and importantly, turn-by-turn navigation.
All in all, regardless of the trim level you choose, the 2014 Altima interior feels like anything but a skimpy car. And the higher trim models are positively lavish.