2014 Nissan Juke Introduction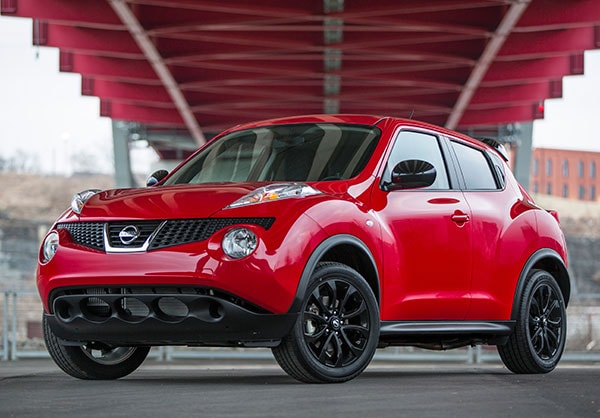 The compact economy crossover all-wheel-drive segment consists of the Nissan Juke. It used to include the pioneering Suzuki SX-4, but Suzuki has left the country and took the SX-4 with them. Take out the word economy and you could add the Mini Countryman that's the same size as the Juke. Maybe the Mitsubishi Outlander Sport, but it's larger. There are others that might be considered, from the Honda Fit to Ford Fiesta to Kia Soul, but they're not all-wheel-drive crossovers. They're competitors for the base Juke with front-wheel drive.
Juke has fun styling, sharp performance, and decent cargo space. It's fun car to drive, in a jaunty, engaging way. The name Juke suggests flitting around town, as a boxer might juke around the ring, and it does just that. It uses a 1.6-liter turbocharged direct-injection engine that makes 188 horsepower with 177 pound-feet of torque, and provides quick acceleration around town. It's a great car for running errands, hauling small stuff, jumping in and out, and parking in tight places. It hugs winding roads with its responsive steering. But with its short wheelbase and big 17-inch wheels, you feel the bumps.
Nissan calls the Juke a sport cross, as in crossover between an SUV and sports car. It's built on the Versa platform, but for the sake of sport it's 7 inches shorter and 3 inches wider than the Versa hatchback. It's popular with folks who like eye-catching design. It's been described as looking like an Australian jumping spider, and it's been called the Lady Gaga of compact crossovers.
It hasn't changed much in its three years, although in late 2013 the racy Nismo model was added, bringing action to those sport cross words. The Nismo offers 100 tweaks, including ECU re-mapping that increases the horsepower and torque a bit, a 10 percent stiffer suspension, and a cool presence with hot-looking 18-inch alloy wheels, a spoiler and more. Inside, there's synthetic suede trim with red stitching, and a leather-wrapped steering wheel with shift knob.
The Juke is offered in four trim levels counting the Nismo, with either front- or all-wheel drive, and a 5-speed manual transmission or 6-step CVT. The all-wheel-drive system divides the torque 50-50 front/rear, and can move the torque between left and right wheels to meet traction demands.
The Juke seats five, but don't count on more than four for actually going anywhere. The standard rear seat is a fold-flat 60/40, so there's good cargo space behind the front seat, the easiest way to use Juke.
The comfortable front seats are covered with a sporty fabric in the SV and impressive leather in the SL, with classy synthetic suede trim in the Nismo. The center console design is inspired by a motorcycle gas tank, and its hard plastic trim is painted a glossy silver or deep metallic red. It's distinctive and way cool. Center armrest, however, is optional.
The fuel mileage with front-wheel drive and CVT is rated at 27 city/ 32 highway, and with all-wheel drive it's 2 mpg less. In 390 miles of driving with an all-wheel-drive Nismo, including freeway, around-town and a couple of spirited backroads runs with frequent full throttle, we averaged 25.8 mpg. The bad news is that premium gasoline is recommended.
The continuously variable transmission, or CVT, is a good one. It can be used like an automatic, shifted into Drive and forgotten, or shifted manually with six speed ranges. However, in the awd Nismo at least, the CVT isn't sporty enough, because it does too much on its own. A 6-speed manual gearbox is available for models with front-wheel drive. The manual transmission wrings out the quickest acceleration and is the most fun for this car, but the front-wheel drive transmits torque steer and allows understeer. What the Juke needs is all-wheel drive with a manual transmission. Then we'd agree with Nissan and call it a sport cross.