2014 Nissan Juke Summary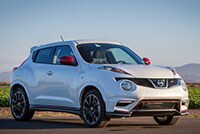 The Nissan Juke is unique as an all-wheel-drive (or fwd) compact crossover with distinctive fun styling, sharp sporty performance, and good cargo space. The interior is tidy and sporty, with rugged and comfortable fabric seats. The zippy turbocharged 1.6-liter engine brings about 25 mpg.
NewCarTestDrive.com correspondent Sam Moses contributed to this report.