2014 Nissan Leaf Driving Impressions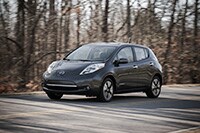 The Leaf is fun to drive because it's so very different from driving a traditional, gas-powered car. Like all electric cars, the 2014 Nissan Leaf is extremely quiet. So quiet, in fact, that Nissan worked with a number of groups to design and build a noise generator that operates between 1 mph and 18 mph, to warn visually impaired pedestrians that a car is nearby. At speeds over 18 mph, the car is loud enough on its own to be heard. Other manufacturers have developed similar systems, triggered by concerns expressed by blind activists.
The electric motor provides tons of silent torque to get away from stoplights, and still has plenty of power for 40-70 mph passing maneuvers. In fact, it could go faster than 90 mph on level roads. If your goal is hyper-miling, getting the absolute most out of each battery charge, the instruments will help you all the way. That assistance includes one at the top left that first completes a circle, and then grows virtual trees as you drive.
The weight of the batteries can be felt on winding roads. Transient response, how the car behaves in hard left-right-left emergency lane-change maneuvers, is not nearly as good as that of the Chevrolet Volt. Leaf is front-wheel drive.
The operating guts of the Nissan Leaf consist of a 600-pound, laminated lithium-ion battery pack made up from a series of four cells to a module, with 48 modules, for a total of 192 batteries. The battery pack is made for Nissan by its battery partner, NEC of Japan. It uses a combination of lithium-ion, manganese and graphite to feed an 80-kilowatt electric motor, which produces a modest but adequate 107 horsepower, and a peppy 207 pound-feet of torque.
Leaf gets an EPA-rated energy efficiency equivalent (MPGe) of 130/102 mpg city/highway rating and an estimated range of 75 miles.