2014 Nissan Leaf Introduction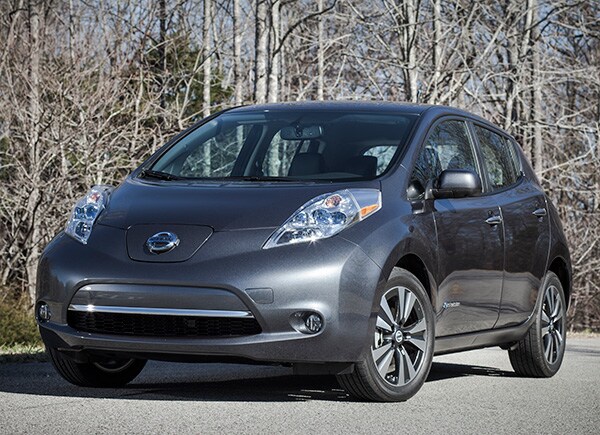 The Nissan Leaf is an all-electric, four-door compact car that seats five. When it debuted for the 2011 model year, it was the first mass-production all-electric vehicle to go on sale in the U.S., with a starting price of more than $30,000. With a number of newer electric cars nipping at the Leaf's heels, Nissan introduced a new "entry-level" base model for 2013 that started at just $28,800.
Little has changed for 2014, except for a newly standard RearView Monitor on all models. The EPA has modified the Leaf's equivalent-mpg ratings, and estimated a longer driving range than before. The Nissan Leaf is assembled at Nissan's plant in Smyrna, Tennessee, whereas 2011 and 2012 models were built in Japan.
LEAF is an acronym for Low Emission Automobile of the Future. A 24 kWh lithium-ion battery pack powers an 80-kilowatt electric motor, good for 107 horsepower and 207 pound-feet of torque. Modifications to the 2013 Leaf included improved aerodynamics, more efficient regenerative braking, and better vehicle energy management, resulting in better Environmental Protection Agency numbers. The 2014 Leaf gets a 126/101 MPGe City/Highway energy efficiency equivalent rating, and an EPA-estimated driving range of 84 miles.
By comparison, the 2012 Leaf was rated at 106/92 MPGe with an estimated range of 73 miles. Also, the EPA changed its methodologies in 2013 for determining EV range, so the Leaf's improvements are more significant than the numbers indicate. As with all electric vehicles, the actual range will vary based on driving style, speed, weather, temperature and battery age.
A 6.6-kW onboard charger is optional on the base model and standard on upper trim levels. With it, the 2014 Leaf can fully charge in about five hours using a 220-volt fast charger, versus about eight hours with the standard 3.6-kW charger in the S model. The available quick-charge port allows charging to 80 percent of capacity in about 30 minutes, at public stations using a CHAdeMO fast charger.
The Leaf is a zero-tailpipe-emissions vehicle. The tailpipe bit is important, since no vehicle is truly zero-emissions when production and distribution (and, in this case, charging) are taken into account. The Leaf uses partially recycled materials in the fabric upholstery found in the mid-level SV trim, made in part from recycled water bottles. It also uses a range of other wood and plastic materials, recycled and recyclable, in its interior and exterior design. Nissan claims the Leaf is the greenest production car ever built, and is about 94 percent recyclable.
Like other alternative-fuel vehicles, the Leaf qualifies for federal, and in some cases, state and/or local tax credits. The benefits of owning this type of vehicle may not all be measured in dollars and cents, however. Some states offer HOV (high-occupancy vehicle) stickers for electric and hybrid vehicles, which give access to coveted carpool lanes even when the driver is solo. For those who slog through stop-and-go traffic twice a day, this perk could bring welcome relief. Of course, it's wise to keep in mind that in crowded cities like Los Angeles, the congested special commute lanes don't move much faster.
Competitors were practically nonexistent when the Nissan Leaf debuted, but more automakers have stepped up with electric vehicle offerings. They include the Ford Focus EV, Mitsubishi i-MiEV, Honda Fit EV, Smart ForTwo EV, and Chevrolet Spark EV. Forthcoming electric models include an electric version of Mercedes-Benz's recently-introduced CLA. BMW also is offering a battery-powered ActiveE model. Those who have longer commutes or who suffer from range anxiety might also consider a plug-in hybrid such as the Chevrolet Volt, Toyota Prius Plug-in Hybrid, Honda Accord Plug-in, or the Ford C-Max Energi plug-in.