2014 Nissan Pathfinder Introduction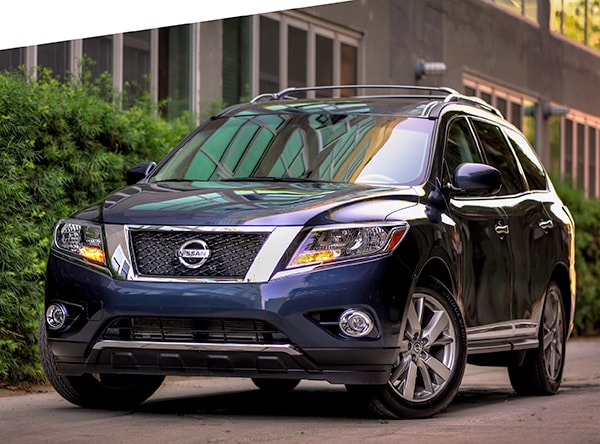 A fixture in Nissan's product lineup for more than 25 years, the fourth-generation Pathfinder has evolved from the cheeky adolescent Hardbody of 1986 to the mature parental unit of 2013-14. It's a maturation process that entailed several zigs and zags. Like so many vehicles that came along in the mid-'80s SUV boom, that first generation was a body-on-frame design based on Nissan's compact pickup truck. The next iteration (1996) was a unibody (frame rails integrated with the body shell), but Nissan reverted to body-on-frame for generation three (2005).
As a result, the transition to the 2013 Nissan Pathfinder, redesigned as generation four, was a major course change for this persistently popular SUV. The third generation was conceived for the possibility, however remote, of serious off-road use; hence, lots of ground clearance and body-on-frame construction.
Generation four represents an about-face. Concluding that the large-SUV segment is increasingly composed of buyers whose priorities don't include off-road adventure, Nissan retuned the Pathfinder around family values: roominess, comfort and, paramount among today's vehicle attributes, fuel economy. The result is a Nissan Pathfinder that's bigger than the gen-three model, with more room, sharply reduced curb weights, and dramatically improved fuel economy ratings.
Beneath the 2014 Nissan Pathfinder hood sits a 3.5-liter V6 engine that makes 260 horsepower and 240 pound-feet of torque, driving an Xtronic continuously variable transmission (CVT).
Biggest news for 2014, though, is the introduction of a Pathfinder Hybrid model, offered with either two-wheel or all-wheel drive. In the Hybrid, a supercharged 2.5-liter four-cylinder gasoline engine mates with a 15-kW electric motor and a compact lithium-ion battery. The battery fits under the third-row seat, which means no compromise in passenger seating or cargo space.
The new 2014 Pathfinder Hybrid uses a Nissan Intelligent Dual Clutch System. With combined output of 250 horsepower and 243 pound-feet of torque, performance is claimed to be equivalent to the non-hybrid Pathfinder's 3.5-liter V6. The Hybrid comes in SV, SL or Platinum trim, whereas regular Pathfinders are offered in four trim levels.
For regular 2014 Pathfinders, a new SL Tech Package includes a Bose 13-speaker premium audio system, navigation with voice recognition and XM NavTraffic/Weather, Bluetooth streaming audio, and an 8-inch touchscreen.
How did the current-generation Pathfinder increase dimensions while reducing weight? That, plus much higher chassis rigidity, is a benefit of unibody construction. At 114.2 inches, the current Pathfinder's wheelbase is 2.0 inches longer than the 2012 model. Overall length stretched 4.6 inches, and width expanded from 72.8 to 77.2. The only dimension that shrunk was height, partly because ride height and ground clearance (6.5 inches) are similar to sedan figures.
This isn't surprising, since the latest Pathfinder's architecture, based on front-wheel drive, is shared with the Nissan Altima sedan. What does surprise is how much mass was pared from the Pathfinder in the transition from generation three to generation four: 300 to 500 pounds, depending on model.
Although Nissan created no fancy name for it, the design and engineering approach to the weight reduction is similar to Mazda's Skyactiv Technology. Everything in the new Pathfinder went on a diet.
The sum of the foregoing, plus improved aerodynamics (0.34 coefficient of drag, very good by SUV standards), is EPA fuel-economy estimates of 20 mpg City, 26 Highway for front-wheel drive models; or 19/25 mpg with all-wheel drive. Nissan has claimed best-in-class status for the front-drive Highway rating. In contrast, the prior Pathfinder rated only15/22 mpg with rear drive, 13/18 with four-wheel drive.
The net result is a seven-passenger crossover SUV that's stylish, roomy, quiet, and economical by midsize-SUV standards. That group includes the Chevrolet Traverse, Ford Explorer, Honda Pilot, Mazda CX-9, and Toyota Highlander.
Reaching past the regular Pathfinder's credentials, the new 2014 Nissan Pathfinder Hybrid delivers an even more satisfying midsize-SUV experience, while earning a truly thrifty EPA estimate: 25 mpg City/28 mpg Highway (27 mpg Highway with all-wheel drive).