2014 Nissan Rogue Driving Impressions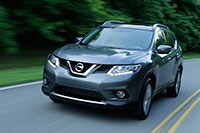 Rogue's 2.5-liter engine makes 170 horsepower and is fine for everyday commuting or running errands around town. Acceleration is smooth, but power is only moderate off the line. We had to floor it when merging or passing to get enough oomph.
Some of that might be due to the Continuously Variable Transmission (CVT), which takes a while to spool up. This current version has been tweaked for the 2014 Rogue, and Nissan says it improves fuel economy by up to 10 percent. But like all CVTs, this one feels elastic. Aside from times when instant power is needed, most people won't notice the difference between the Rogue's CVT and a traditional automatic transmission.
The Rogue drives more like a car than an SUV, and Nissan has done a good job improving ride and handling over the previous generation. Before, the Rogue could feel busy on bumpy pavement, and sharp ruts could give passengers a jolt. Nissan addressed this in part with a new technology called Active Ride Control, which keeps the car more firmly planted over bumps when traveling at speed of 25 mph or greater. There are no mechanical enhancements to the suspension, rather, the Rogue modulates the throttle over bumps to compensate. We tried an exercise in a closed-off parking lot, driving over identical speed bumps at 15, 20 and 25 miles per hour. At 25 mph, the bounce-back was noticeably reduced, although when going back over at closer to 35, it still gave us quite a jolt. The system can help, but it can't defy the laws of physics, either.
Another new technology on the 2014 Rogue is Nissan's Active Trace Control, which helps to reduce understeer (or plowing) in wet weather by pulling the car to the inner corner of a turn. We tested this on a wet skid pad in a giant parking lot, and could feel the system pulling us in as we began to lose traction.
The electric-assist steering is comfortable around town and on the highways, and is responsive, but not particularly communicative. Because the Rogue lacks variable ratio steering, we found in the twistys that we had to give it an extra crank to get it around the corners. Steering is variable effort, however, which means it will feel easier to turn in straight-line and slow-speed driving, and heavier around turns at highway speeds.
Brakes have been re-tuned in the 2014 Nissan Rogue to feel more comfortable and less aggressive. Nissan engineers told us that previous Rogue owners felt the brakes engaged too quickly. As a result, the brake pedal on the new Rogue has much more travel in the top end. While this might be good for coasting to a stop or slogging through traffic, we found we really had to bury our foot in the pedal to get the brakes to bite.
In the previous-generation Rogue, interior noise was quite noticeable, but this seems to have been mostly fixed. The cabin seemed quiet at both city and highway speeds, and while there was some tire noise, wind noise was minimal.
Fuel economy is quite good, with an EPA-estimated 26/33 mpg City/Highway with front-wheel drive, and 25/32 mpg City/Highway with all-wheel drive. That's compared with 23/31 mpg for the Honda CR-V with FWD and 22/30 with AWD; The Toyota RAV4 achieves 24/31 mpg.
The Rogue is not built for towing, with a maximum capacity of only 1,000 pounds similar to many four-cylinder crossovers. Nor is it intended for off-road duty.