2014 Porsche 911 Introduction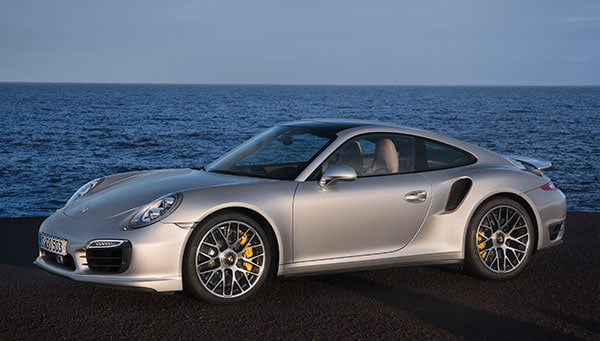 The launch of the seventh-generation Porsche 911 began with the 2012 model year, extending through 2013 and into 2014 as all the variants adopted the new platform and body. Ranking as a big leap forward, the new 991, as it's called internally, replaced the outgoing 997 (2007-2011).
Three new versions are arriving for 2014: Porsche 911 Turbo and Turbo S Cabriolets, along with a redesigned, track-ready GT3 coupe.
The Porsche 911 GT3 enters its fifth generation with a new engine, transmission, chassis and body. In addition to a broad profile and rear wing, the GT3 has a new option: full-LED headlights. Active rear-wheel steering is new, and the 3.8-liter flat-six engine generates 475 horsepower. That's sufficient for 0-60 mph acceleration in an eye-popping 3.3 seconds, according to Porsche.
Porsche also is offering a 50th Anniversary Edition, based on the 911 Carrera S. New 911 options for 2014 include LED headlights and Turbo wheels.
The redesigned Turbo and Turbo S coupes arrived late in 2013, replacing the previous-generation versions that had been sold during 2013. In addition to being all-new, Turbo coupes and Cabriolets gain active rear-wheel steering and adaptive aerodynamics, as well as a power boost. The 3.8-liter Turbo engine generates 520 horsepower, while the Turbo S promises 560 hp.
The 2014 Porsche 911 Carrera is available in coupe and Cabriolet forms. It comes in two states of tune: 350-horsepower Carrera and 400-horsepower Carrera S. The 2014 Porsche 911 Carrera 4, Carrera 4S, Carrera 4 Cabriolet, and Carrera 4S Cabriolet bring all-wheel drive into the equation. That's a lot of models, each one a fantastic sports car. You can't buy a bad 911, though having to choose among them could be stressful, the kind of stress you want to have.
The current 991 is longer, lower and wider than the 997 before it, but the familiar profile remains. Also familiar is its rear-engine layout, featuring a horizontally opposed six-cylinder engine tuned with the latest engineering and technology yet emitting the traditional Porsche wail.
The Porsche 911 Carrera is powered by a 3.4-liter flat-six punching out 350 horsepower and 287 pound-feet of torque, with a 0-to-60 mph acceleration time of 4.4 seconds, according to Porsche. The Carrera S goes with a 3.8-liter flat-six making 400 hp and 325 lb.-ft. of torque, with a 4.1-second 0-60 time. Both engines are available with a 7-speed manual or 7-speed dual-clutch transmission, which Porsche dubs PDK (for Doppelkupplung).
Cabriolets feature an automatic soft top that can be raised or lowered in just 13 seconds, at speeds of up to 31 mph. Every Carrera variant is available as a Cabriolet.
One notable difference between this 991 generation and the prior 997 is the steering. Porsche switched from a hydraulic system to electric steering, a move that created a stir among enthusiasts. While some experts call the new steering numb, we found, unlike many of the new electric power steering systems, the electro-hydraulic system on the Porsche 911 continues to let you know precisely what the car is doing.
Another improvement was the addition of the Porsche Dynamic Chassis Control (PDCC) active roll stabilization system. Porsche claims its PDCC technology enhances cornering performance by keeping the tires in their optimal position at all times, while minimizing body roll.
The Porsche 911 is surprisingly conservative when it comes to fuel economy. A lighter curb weight compared to the previous generation, combined with technologies such as auto stop/start, helps the 2014 Porsche Carrera achieve an EPA-estimated 19/27 mpg City/Highway with the manual transmission and 20/28 mpg with the PDK. The all-wheel-drive Carrera 4S is less fuel-friendly, but still reasonable for the class, at 18/26 mpg City/Highway with manual and 18/25 mpg with the PDK. Turbos get an estimate of 17/24 mpg City/Highway.
Each 2014 Porsche 911 is a markedly refined machine. The interior has the lavish appointments you'd expect in a high-line sedan, with such niceties as an 18-way power driver's seat. That'll keep you firmly in place during the hardest cornering, but it's also comfortable enough to be an everyday driver.
Competitors include sports cars that can handle track days and the daily commute, such as the Aston Martin V8 Vantage or Mercedes-Benz SL-Class.