2014 Porsche Boxster Driving Impressions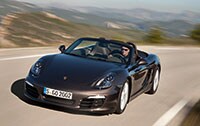 Porsche Boxster comes with a 2.7-liter engine that generates 265 horsepower at 6700 rpm. Torque output is 206 pound-feet at 4400-6500 rpm. Boxster delivers solid 5.5-second 0-to-60 times with the manual gearbox, according to Porsche, 5.4 seconds with the PDK transmission, 5.2 seconds with PDK and Sport Chrono. Premium fuel is required. Fuel economy is an EPA-estimated 20/30 mpg City/Highway with manual gearbox, 22/32 mpg with PDK.
Boxster S comes with a 3.4-liter flat-six that generates 315 horsepower at 6700 rpm, 266 pound-feet of torque available 4500-5800 rpm. Porsche says Boxster S can accelerate from 0-60 mph in 4.8 seconds with the 6-speed manual, 4.7 seconds with PDK, 4.5 seconds with PDK with Sport Chrono. Fuel economy for Boxster S is an estimated 20/28 mpg City/Highway with manual, according to the U.S. government, or 21/30 mpg with the PDK. Premium gas is required.
We spent most of our time during our Alabama sojourn in a Boxster equipped with the Porsche Doppelkupplung; or PDK dual-clutch, for those whose tongues twist into pretzels trying to pronounce German techno-speak. The reality is that the Porsche semi-manual package is so good and so quick, it will be the option of choice for the majority of buyers, especially those who expect to spend significant time stuck in traffic. No clutch pedal with PDK. The manual gearbox works well and is the preference of traditionalists.
Another debate centers around the Boxster's electro-hydraulic steering system, a concept we first saw introduced with the seventh-generation 911. We fall somewhere in the middle of the discussion. There's no question it improves fuel economy. Porsche engineers said they had even more time to tweak and tune the steering system since the 911 rolled out. Although it's responsive and precise, it doesn't deliver quite the direct road feel of the classic hydraulic steering box. The biggest weakness is that there is no progressive build-up; you feel the same degree of resistance in a tight, high-speed corner as you do during a moderate-speed, less aggressive turn.
The road manners of the Boxster encourages aggressive driving, as we discovered during our time behind the wheel both at the Barber race track in Alabama, as well as during a couple hours of driving through the countryside. We turned around after charging one particularly challenging uphill series of tight S-turns, to see how much further we could press into the corner before hearing the tires chirp. It took several attempts, and even then we were confident we hadn't come close to the car's limits.
Adding to our confidence was the Sport Chrono Package which features some trick magnetorheological transmission mounts. That's the same basic technology you'll find in a number of new high-performance suspension systems, including those from Ferrari, and on the Cadillac V-Series. By varying the power sent to electromagnets surrounding the mounts, which are filled with a ferrous-based fluid, it effectively stiffens or softens, all but instantaneously.
The optional Porsche Torque Vectoring system, or PTV, uses both the locking rear differential and rear brakes to effectively shift torque from side-to-side to improve cornering.
Even without those options, the current Boxster's wider track keeps the two-seater firmly planted and willing to respond to even the most demanding driver inputs.