2014 Porsche Boxster Walk Around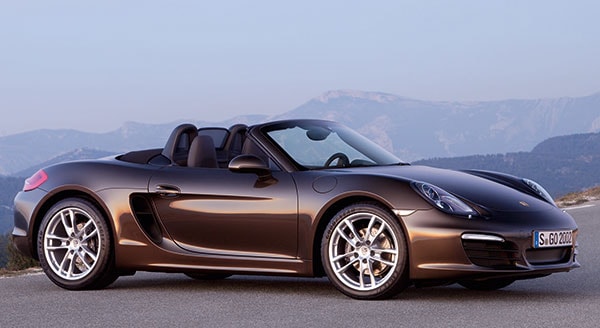 Porsche Boxster underwent significant revisions for 20-13, including the development of a new chassis that anchored the vehicle with an added 2.4 inches of wheelbase. Total length stretched a slightly more modest 1.3 inches. That translates to less overhang. The current roadster is also a wee bit lower. What's more impressive is the fact that the base car shed 55 pounds, while the Boxster S dropped 77 pounds.
The mid-engine layout is a critical defining factor in design, but the design of the new 911, a rear-engine car, has clearly influenced the new Boxster's overall styling. We think some folks may mistake the new Boxster for a previous-generation 911 Cabrio.
The windshield moved forward by about four inches, compared to the previous generation, while the Boxster's tall front fenders and sloping headlamps bear a clear hint of 911. Sculpted side panels, which flow into deep air scoops just behind the doors, bear the imprint of the Carrera GT. The 2014 Porsche Boxster features flowing LED taillamps that pinch in under the decklid, just beneath the integrated rear spoiler.
The overall look is devoid of excess ornamentation and presents a more mature look for the Porsche Boxster.
The Boxster is a roadster and it takes a brief 9 seconds to raise or lower the top. To our knowledge, that's the fastest of any ragtop on the market.
Interior
Boxster is roomier than the previous version. For those who found the cabin a bit cramped in past generations, the current model will come as a marked improvement.
The added wheelbase has largely benefited the interior, starting with seats that can travel an extra inch rearward. Those seats, meanwhile, offer substantial lateral support, as we discovered during both some aggressive track driving and a slightly more leisurely route through the Alabama countryside. But they're also pleasantly comfortable after even several hours behind the wheel.
Looking through the steering wheel, you'll discover an attractive three-gauge cluster reminiscent of both the latest 911 and the four-door Porsche Panamera. It was the Panamera that introduced the distinctive center console, where the majority of the car's switches and controls are located. That design layout carries over into the Boxster.
The overall look and feel, meanwhile, is decidedly more refined than the Boxsters of the past. As with all recent Porsche offerings, the maker has been recognizing that it is, after all, as much a luxury car maker as a manufacturer of high-performance automobiles. There's no reason to settle for chintzy switches, handles and knobs, and the Boxster is proof in point.