2014 Subaru Impreza Summary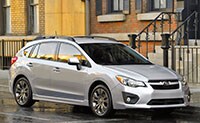 Subaru Impreza is a value leader, with a cruising range of 523 miles and better fuel mileage than a Fiat 500. Its all-wheel drive ensures stable handling in the worst weather. It is more comfortable than expected and even a touch glamorous, yet it still embodies all of the admired practicality that has made Subaru among the most owner-loyal brands anywhere. On top of all that it looks great.
Ted West filed this report to NewCarTestDrive.com from New York. John F. Katz contributed from South Central Pennsylvania.