2014 Subaru XV Crosstrek Driving Impressions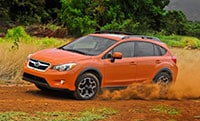 The Subaru XV Crosstrek drives like a car. Though taller and heavier than an Impreza, it still weighs in at just 3100 pounds, svelte for its class. It's only slightly slower and less nimble than the sedan. With 145 foot-pounds of torque, the 148-hp 2-liter flat-four engine accelerates well up to 60 mph, and keeps pace on the freeway without much effort.
Fuel economy for the base engine is an EPA-rated 25/33 mpg City/Highway with the CVT (continuously variable transmission), and 23/30 mpg with the 5-speed manual transmission. On one jaunt with a 5-speed 2.0, over 60-mph freeway, 35-mph two-lane through towns, and 15-45 mph off pavement, we got 26.2 mpg.
Later we spent one week in a 2014 XV Crosstrek Hybrid that's EPA rated at 29/33 mpg. With cruise control set at 72 mph on a freeway with some climbs, we got 26.6 miles per gallon; in the city we got about 24. It has an auto stop/start system that's mostly seamless, although some situations caused a hiccup. The Hybrid is quite smooth at speed and plenty fast. That increase in torque, to 163 pound-feet at 2000 rpm from 145 pound-feet at 4200, makes a huge difference in the car's acceleration from stop.
The Hybrid introduction took place in Iceland, where it over-achieved in its offroad performance, in ice and snow and even river crossings. Subaru wanted to prove that you can treat your Crosstrek like a Jeep, and it'll still get you there.
Clutch effort with the 5-speed is moderate and releases near the floor, and the shifter is adequate. The gear ratios are shorter than the Impreza sedan's to allow for the added weight, so 70 mph is 3150 rpm, but the engine hum is isolated from the cabin. Even on steep inclines and chugging around town, the engine pulled well with the manual transmission in the correct gear.
The CVT is designed to feel like an automatic; that is, the revs and speed accelerate at the same time, unlike some older CVTs that put engine revs high while vehicle speed catches up, like an outboard struggling to get on plane. This continuously variable transmission has six settings to imitate a 6-speed automatic's gears, with paddle shifters. As with the 5-speed manual, mountain passes or overtaking will need healthy revs and all of the horsepower.
Every XV Crosstrek is all-wheel drive. Manuals use a lockable viscous coupling which splits power evenly front and rear, while the CVT uses an electronically controlled clutch pack and can vary the split 100 percent to either end. Both are transparent to the driver, and only if their limits have been reached does the traction control come into play by applying a brake to a spinning tire. Switching VDC off deactivates traction control.
Brakes and tires are both larger than those on the Impreza and appear appropriate for this small SUV.
Although the suspension is raised and has stouter parts, it feels much like a straight Impreza sedan, perhaps just a bit slower in response. The front antiroll bar is bigger to combat lean, wheels are set wider apart, the rear springs are softer to let the wheels move up and down more for off-highway traction, and the shock absorbers are stiffer, especially in front. The Crosstrek has the lowest center of gravity in its class, even more balanced than the VW Tiguan that we've driven with much enthusiasm around an autocross course. We can say the Crosstrek handles better than almost anything else with nearly nine inches of ground clearance. Perhaps because of this, the electronic stability control is aggressive, intervening before an XV gets out of shape rather than attempting to correct it once that point is reached.
Electric-assist steering is quite heavy on center, as if to improve directional stability, and lightens up with cornering. It needs 34.8 feet for a U-turn, which is better than average.
Road noise is medium to light, mostly from the tires on the grainy road surfaces. Wind noise from the mirrors is minimal.
It's rated to tow 1500 pounds, and it's not uncommon to see a Subaru pulling something, like a motorcycle trailer. Payload (including passengers, cargo, and roof load) is about 1200 pounds, equal or more than some full-size 4x4s.