2014 Subaru XV Crosstrek Introduction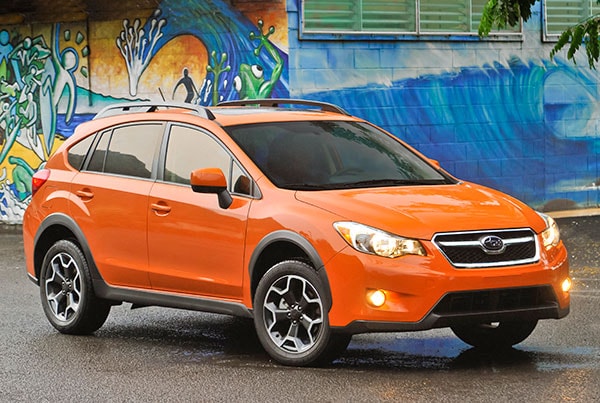 The Subaru XV Crosstrek was launched as a 2013 model and essentially replaced the Impreza Outback Sport. It shares the platform and basic components used in the Impreza, which was redesigned for 2012, with upgrades to the suspension including wheels, tires and brakes.
The XV Crosstrek is taller than a sedan and has more ground clearance. It drives like a car because it mostly is one. On the freeway it's surprisingly smooth and quiet. The 2.0-liter four-cylinder boxer engine makes 148 horsepower and 145 pound-feet of torque. It's quick enough, although speed isn't what it's here for. The Crosstrek is suitable for those who want to go beyond the highway, not reach the end of it before the others.
New for 2014, an XV Crosstrek Hybrid model was introduced. EPA mileage is 29/33 mpg. Efficiently packaged, the electric motor is built into the continuously variable transmission, and the 13.5 kw nickel-metal-hydride battery is tightly tucked into the rear floor so only 3 percent (1.7 cu. ft.) of cargo storage is lost; also, the battery lowers the center of gravity for better cornering. The Hybrid is capable in deep snow and one ice.
The Hybrid is quicker and faster than the standard version, with a suspension tuned for agile handling, quick-ratio electric power steering, and aero 17-inch alloy wheels with 225/55 tires, while using the same Symmetrical All Wheel Drive with 8.7 inches of ground clearance. Think sport gaining hybrid, not hybrid adding sport. The Hybrid uses the same 2.0-liter engine, modified with a slightly higher compression ratio, low-friction piston rings and valve springs, and a gas regenerative system (EGR) with cooler. It adds 13.4 horsepower and more importantly 48 pound-feet of torque from 0 to 1500 rpm, for a net 160 hp and 163 pound-feet at 2000 rpm, as opposed to the base engine's torque of 145 pound-feet at 4200 rpm.
The Crosstrek suspension handles bumps both big and small.
The Crosstrek isn't fancy inside, but it's not compromised by inexpensive materials. It feels practical. The standard cloth interior is rugged and clean, with heated front seats standard. There's good room in front, a decent rear seat with plenty of headroom, and room for two mountain bikes behind the front seat and three golf bags behind the second seat. The instrumentation is good and simply laid out, with switches and controls in logical positions.
Crosstrek is well-equipped and a good value with standard equipment. The base price includes solid accessories including heated outside mirrors and front seats. Navigation with infotainment, and moonroof, are available.
Crosstrek gets 5-star ratings from NHTSA government crash tests, and the insurance industry's IIHS classifies it a Top Safety Pick. Subaru's reliability record is admirable. More owners swear by them than at them.
The Crosstrek competes in a crowded, ever-expanding market with the Mazda CX-5, Honda CR-V, Hyundai Tucson, Kia Sportage, Toyota RAV4, Volkswagen Tiguan, Nissan Juke and Mini Countryman.