2014 Subaru XV Crosstrek Walk Around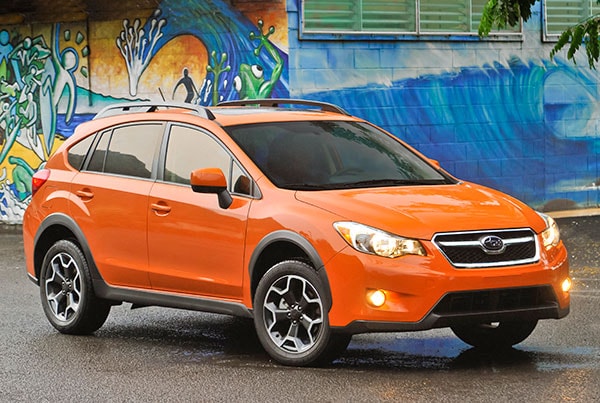 The Subaru XV Crosstrek is conspicuously rugged, like the Audi Allroad or Volvo XC70 CrossCountry. It's distinctive and edgy. Compared to the Impreza, it gets its own bumpers and grille with aero shutters, tinted rear windows, and wheels that maybe try a bit too hard to look tough. Except for the center of the rear bumper, the cladding protects the entire lower perimeter from sticks and stones.
Hawkeye headlights and fog lights frame a grille mildly pinched in the middle, and with an open lower grille. At the front corners the cladding notches into the wheel opening, a creative touch literally adding some edge.
Substantial corners on the rear bumpers add visual strength and look like they might fit on a fishing boat. LED taillamps have more white in them than other Crosstreks. Exhausts are tucked and hidden to keep them from being dinged by offroad adventure.
Aero tweaks on the roof rails gain 1 mpg, says Subaru. Roof cross bars are not standard on crossovers and SUVs because they hurt highway mileage.
The XV Crosstrek is four inches higher than an Impreza, with 8.7 of ground clearance at the exhaust pipe, as much as some pickup trucks. Most parts are well protected and we expect the XV to be quite reliable.
Interior
The Crosstrek cabin is functional without being Spartan. Contrast-stitched fabric upholstery appears durable, breathes well to minimize temperature extremes and would be our choice if we're using the car to get dirty. Trim is matte-finish to avoid reflections, upper surfaces are soft-touch for comfort, and lower panels are plastic for easy cleaning.
Manual seats and a tilt/telescoping wheel offer good adjustment so almost anyone can get comfortable, and support is quite adequate for road trips. We're pleased to find headrests that adjust for height and angle, and seat cushions long enough for Western-size inseams. Heated front seats are standard.
Rear seats offer plenty of headroom, even with the optional moonroof. Our 6-foot, 3-inch passenger sat in the middle position without scraping the ceiling with his noggin. His legs were another story, as the Crosstrek offers 35.4 inches, compared for example to the Subaru Forester at 38.0.
Comparing cargo space, the Forester has 63 cubic feet, 9 more than the Crosstrek, although much of that comes with the taller roof.
Only the Limited and Hybrid have a center armrest (with cupholders), but all models have seatbacks that fold nearly flat an inch or two above cargo deck height without removing the headrest, as long as the front seats aren't too far back. The center shoulder belt stows in the right side of the cargo area, out of the way of folded seats. Back doors open wide for easy entry and exit or securing awkward cargo.
Instrumentation is simply adorned, illuminated deep amber for easy glancing at night. A rev counter and optimistic 150-mph speedometer frame a digital display for fuel level and gear data, with an analog economy gauge that follows your right foot, duh. The top center display provides trip, time and ambient temperature, but the control knob is around the steering wheel.
Basic three-ring climate controls get desired heating and cooling with minimum fuss; automatic control comes on the Limited. Each dashboard vent closes individually and the darker window tint keeps the rear seat cooler than on the Impreza.
Side mirrors that look large on the Impreza look right at home here, the extra viewing handy off the pavement or on it. Outward visibility is superb forward and very good everywhere else, a benefit of slender windshield pillars, low hood line, high windshield, articulated inside mirror, and outside mirrors set well back. Standard electric de-icers will thaw wipers frozen to the windshield soon after startup, eliminating scraper damage to them. Shading around the mirror helps driving into the sun, but the visors do not have extensions on them.
Cabin storage includes useful pockets in the console, doors and glovebox. There's 22 cubic feet of cargo space behind the back seat and 52 with it folded down. One advantage of the body height is that there's decent head clearance under the open liftgate. The cargo cover will fit on the floor so you never need leave it home, and there's a temporary spare tire under the floor.