2014 Toyota 4Runner Driving Impressions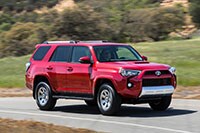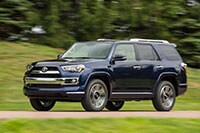 Toyota 4Runner's 4-liter V6 rates 270 horsepower with a useful 278 lb-ft of torque, about what most V6 pickups come with. It's coupled to a five-speed automatic that shifts quickly and cleanly rather than so softened that gear changes are imperceptible. Full tilt a 4Runner needs the better part of eight seconds for a 0-60 mph sprint but in daily use power is more than sufficient. Highway headwinds will often prod a shift to 4th and you may find turning off overdrive makes for less shifting and a smoother ride overall. It's rated 17 city, 19 combined and 22-23 mpg highway by the EPA but there is no getting around it's a big-tired nearly 2.5-ton truck: We got 20.3 on a highway route and expect teens elsewhere.
If you absolutely need a V8 you have step to a like-size Lexus GX460 or the bigger Sequoia or Land Cruiser, all of which cost significantly more. If you only need all-wheel drive for inclement weather Toyota's quicker Highlander offers similar room, and mileage with the V6, but rides better.
It's not that the 4Runner's ride is bad, just that car based crossovers ride better. They lack the strong parts, which are usually heavy, underneath that enable a 4Runner to tow its own weight, even if it isn't on a road. 4Runners in the past have proven quite durable and we have no reason to think they won't continue that way.
Each model has different ride and handling characteristics. The SR5 puts big tire sidewalls to use cushioning impacts and Toyota uses lots of techniques to isolate road noise and clatter. The brakes are big vented discs with good feel and progression: keep pressing harder and you'll stop commensurately faster, but remember these tires are designed for every kind of surface and condition, not just outright grip on dry pavement.
It steers accurately and deliberately, with a smaller U-turn than most car based wagons and appropriate efforts. 4Runner uses a variable flow, power-assisted rack-and-pinion arrangement that with a variable gear-ratio steering rack. This adjusts hydraulic assist based on conditions, and the rack has a different tooth arrangement at the ends so the wheels change direction faster the further they are turned.
Trail models benefit from the big tire sidewalls as well, on slightly wider wheels, but they're available with KDSS. The KDSS uses much thicker antiroll bars…up from 1.18-inch diameter in front to 1.68 and from 0.79 to 1.18 in back. That gives the Trail much better roll control and limits side-to-side movement and weight transfer on the road, and these bars disconnect on the trail allowing each wheel maximum articulation. A locking differential and electronic traction aids help but the best traction is always found with the tires on the ground.
Obviously the Trail is the best off the highway too, with 9.6 inches of ground clearance, plenty of underbody protection and clearance angles close to those of a Jeep Wrangler Unlimited. Crawl control and Multi-terrain control electronics can make a novice look good and an experienced four wheeler feel somewhat removed from the process. Our prediction is the all-terrain tires or simply physical fit will be the first things to slow your progress, assuming you don't run out of nerves first.
Limited models are exactly that as trail toys. The tires are narrower, more street-tread biased and much lower profile than the others: better steering response, not so stellar big-impact rejection, choppier ride. Limited's secret weapon is X-REAS damper system which essentially links opposite corner shock absorbers to limit pitch and roll, making it feel lighter and transition better.
Limited's all-wheel drive system also helps on-pavement confidence because it is on and working transparently all the time. It won't stop you any faster (same tire footprint) but eases finding traction for acceleration, and to a lesser extent, steering. You could just as easily call it all-weather drive. A Limited will go further off the pavement than a crossover with the same all-wheel drive because of clearance, suspension travel and less chance of breaking anything.
Maximum towing capacity is 4,700 pounds by SAE J2807 standard; unless it says J2807 you can't compare this to another vehicle's tow rating. 4Runner is a good candidate for any 3,000-pound boat or camping trailer with a full crew aboard, and trailer sway control is standard.