2014 Toyota 4Runner Summary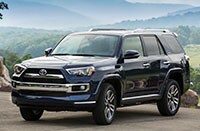 The Toyota 4Runner can hold up to outdoor recreational use that would prove destructive to car-based crossovers. We find the 2WD versions useful for towing in good climes but think 4WD is far more appropriate for a 4Runner.
John Stewart filed this report to NewCarTestDrive.com after his test drive of the Toyota 4Runner near Solvang, California. G.R. Whale reported from California.