2014 Toyota 4Runner Walk Around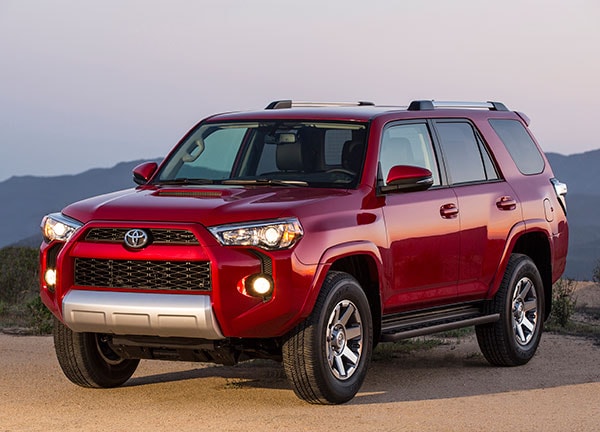 The Toyota 4Runner has a boxy form with a wide stance, with wide fenders to suggest muscularity. The grilles are pronounced, the lights literally stick out front and rear. The wheelwells are squared off and generously sized for larger tires, like the FJ Cruiser. The bumpers add a sense of heft and they're carved away from the ground not for aerodynamics but for clearance off the pavement. Roof rails are standard on all models, as is a tow hitch—this truck is built to be used.
4Runner is shaped like a truck with a flat roof and horizontal window lines nose to tail. Basic boxiness makes it easier to load cargo and see out of with defined corners and no pinched, tucked or wrapped over pieces like most wagon and van based SUV wanna-bes.
SR5 and Trail are styled to project rugged good looks and a sporting nature. Nothing speaks macho like a bumper that looks like a brush bar is built in; none of that bolt-on towel rack stuff for the 4Runner. Trail has a faux hood scoop, its own wheel style, color-matched exterior trim and bumpers, and a dark smoke treatment on the headlights and tail lights.
The Limited comes on lower-profile, narrower P245/60R20 tires mounted on alloy wheels. It gets more chrome and a less pronounced proboscis; it's still a blunt instrument, it's just shinier. All models come with a proper full-size spare, and the Limited has a matching alloy spare. Like the SR5 and Trail grade, the Limited has a rear spoiler that houses the rear wiper, keeping it tucked away from harm but not as easy to clean. Optional retractable running boards stay out of harm's way on the road or trail, but should have an out position on the switch so you don't have to crack a door open to clean them off.
Interior
The Toyota 4Runner interior was designed with an eye toward practicality and utility; the Limited aims for top comfort within those parameters. The cabin is trimmed in textured materials appropriate for a vehicle likely to carry dirty boots, dogs and kids.
The front seats are comfortable and supportive, with good adjustability working in concert with the tilt/telescoping steering wheel. The seats are easily wide enough for an average-size body, with low bolsters on the seat cushion and taller side bolstering on the seat back. We found they provide cornering support on winding roads, without making the driver's seat hard to get into.Three fabrics are offered, two cloth and one leather, and unlike many utes with a third row aimed at kids, if you get a Limited 7-seater the third row gets the same leather as the rest of it. Alas, opnly the Limited sports a leather-wrapped steering wheel.
Second-row seats split-fold flat 60/40 and have moderate recline. If you order the 50/50 folding third-row seats the second row slides forward to ease rear access. Neither rear access nor second and third-row room matches three-row crossovers, many of which are larger outside, nor the Durango. The two-row Jeep Grand Cherokee, much shorter Nissan Xterra and Jeep Wrangler Unlimited have more second-row head and legroom, but the 4Runner has more cargo space (about 90 cubic feet behind front seats and 46 behind the second row) than any of them; square shapes have more room and easier loading than jelly beans.
The steering wheel is a thick-rim four-spoke design. The Optitron instrument cluster is crisp and clear, switchgear easy to sort out, and the Entune line of audio and navigation systems quick to master. Top models link vehicle settings to paired smartphone, so your phone brings your radio stations, climate control settings and so on. Cabin lighting has been changed from amber to blue, a switch we're not yet sold on. Although all 4Runners have the 2/4-wheel drive control on the console ahead of the properly gated shifter, the Trail models additional controls are in the overhead above the rear-view mirror.
Three 12-volt outlets are located in the glove box, the center console stack, and the cargo area. An available 120-volt AC outlet, useful for charging batteries or running appliances at the campsite, is located in the cargo area. Some sound systems have a party mode that adds bass and shifts audio power rearward for listening with the hatch open.
For two-row 4Runners a sliding load deck cargo floor is available, rated for 440 pounds. This could be useful as a pull-out picnic or work table, for jumping dogs to get in or out without scratching bumpers, or even forklifting big boxes in. The loss in cargo volume is negligible and there's a good-size well underneath it.
The rear hatch has a vertically-sliding power window that can be controlled from up front, at the back, or by key remote. This can be used for loading lighter things in back or to promote increased flow-through ventilation with minimum wind noise, and likely appreciated by some smokers or anyone who carries stinky cargo. Since it's contained in the hatch it need not be lowered before the hatch is opened. It does use a rear wiper that parks above the window, so sometimes when washing the glass the muck streaks back down.